Celebrating the 125th anniversary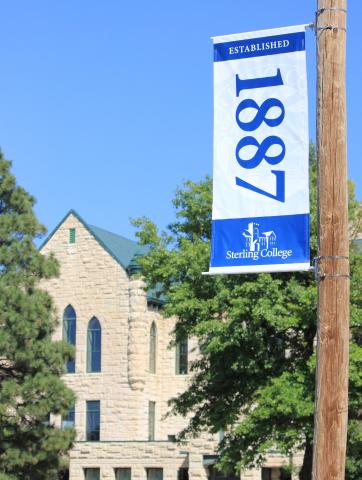 Thursday, September 6, 2012
An observant visitor to the College will notice "Established 1887" banners around campus and note the institution is celebrating its 125th anniversary this year. The College is using annual events and special occasions to emphasize the legacy created through professors, staff, alumni and friends of the College. Alumni and friends of the College are encouraged to participate in several activities throughout the year.
For alumni who have high school-age children interested in attending a special college visit day for Legacy students, contact the Office of Admissions. The visit day will be held on Friday, October 19, and lead into the Homecoming festivities.
A 125-hour prayer vigil will start on Nov. 1 and continue around the clock. Alumni and friends of the College are encouraged to participate. Information regarding location and sign-up will be posted on the Sterling College website closer to the event.
Friends and alumni may also join the celebration online through Facebook and the Sterling College Website. The Sterling College Facebook page posts a daily picture from the SC archives. They began with 1887 on June 30, 2012, and have been counting up to November 1, Sterling's anniversary, when they will post the 125th picture. The pictures can also be found on Pinterest, Instagram and at www.sterling.edu/125/images.
Finally, in an effort to remember and record the history of the SC, a webpage has been created to collect stories about how Sterling has impacted the lives of alumni and friends of the College, along with other memorable events from their time at SC. Stories can be submitted at www.sterling.edu/125/story, and may be used for the Alumni Newsletter, "Sterling Magazine," marketing materials or online elsewhere.