Champions!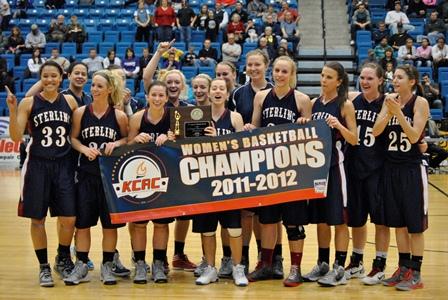 Tuesday, February 28, 2012
Offense wins games. Defense wins championships. On Monday night at Hartman Arena in Park City, Kan., defense won a Kansas Collegiate Athletic Conference Tournament Championship for the Sterling College Lady Warriors.
Sterling locked down defensively, holding the Southwestern College Lady Moundbuilders to 0.278 shooting from the field in the 62-61 Lady Warrior victory. The win sends Sterling to the NAIA Championship Tournament on Mar. 7-13 in Sioux City, Iowa at the Tyson Events Center.
On the defensive side of the floor, Sterling held KCAC Player of the Year Brett Bates to four of 17 shooting and 14 points.  The Lady Warriors held Southwestern, a team that averages 75.9 points per game, to just 61 points. Southwestern also shot more than 0.100 less from both the field and behind the three-point line than their season average, a testament to the Lady Warrior defensive effort.
While the defense locked down Southwestern, the Lady Warriors' outside shooters put on a clinic from behind the arc. Sterling went 9-21 for a team percentage of 0.429 and a total of 27 points from three-point land. Kelly Curtis (5-6 SR Guard) hit four three-point baskets, Cassi Spleiss (5-8 JR Guard) hit three three-point baskets, and Kinsley Hilst (5-10 JR Forward) hit two three point baskets for SC.
In a game that saw four ties and 13 lead changes, the Lady Warriors overcame deficits in points off turnovers (5-16), points in the paint (14-18), second chance points (6-11), bench points (11-18), and free throw points (13-15) to win the KCAC Championship Tournament after finishing fourth in the KCAC Regular Season.
Sterling used a balance of senior leadership, experience, and freshman talent to earn the victory. Curtis, a senior, led Sterling in scoring with 17 points, six rebounds, and five assists. Megan Patrick (6-0 SR Forward) scored 12 points and had six rebounds. Spleiss, a junior, scored 11 points and had five rebounds. Lori Dauer (5-11 FR Post) gave Sterling a big lift off of the bench, recording a double-double with 11 points and 11 rebounds.
Hilst, a junior, also scored six points for Sterling. Kayla Eilert (5-6 JR Guard) scored five points, had 11 rebounds, had two assists, and blocked three shots.
Along with Bates, Kaitlin Tennyson and Zefiryn Bryan scored in double figures for Southwestern with 13 points each.
The win for Sterling give head coach Lonnie Kruse his 16th bid to the NAIA National Championship Tournament at the helm of the Lady Warrior program and his sixth straight trip to Sioux City.
Sterling is 18-12 on the season. On Wednesday, the Lady Warriors will learn who their first round matchup will be in the NAIA National Tournament as the brackets will be announced.