Children's theatre presents "The Hobbit"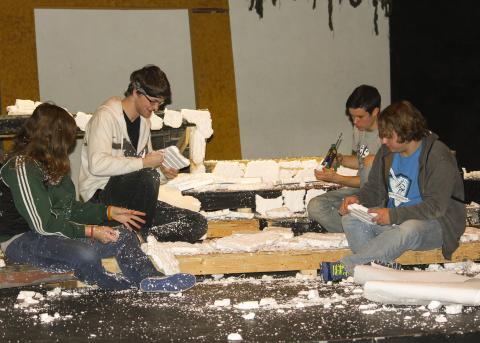 Thursday, January 17, 2013
The children's theatre production, "The Hobbit," will take place in Culbertson Auditorium, Thursday and Friday, Jan. 24 and 25 at 6 p.m. and Saturday, Jan. 26 at 10 a.m.
Based on the novel by J.R.R. Tolkien, this 60-minute adaptation of "The Hobbit" manages to capture the high points of the original novel while maintaining entertainment for all ages. The production will be directed by Assistant Professor Matthew Winning and will feature performances by students enrolled in the children's theatre course during the interterm session.
Students typically have about six weeks to put a production together, but this particular show is being put together from start to finish in approximately three weeks.
"The students are literally in the theatre from 8 a.m.to 10 p.m. every day rehearsing, memorizing lines and building scenery. You name it—they're doing it!" said Assistant Professor Aaron Kennedy. "They are really stepping up to make this show the best it can be."
The production is suitable for grades K-12 and admission is free.
The performance will highlight the acting talents of several Sterling College students including: Kyle Davis of Great Bend, Kan., Ryan Ehresman of Wichita, Kan., Michael Redondo of Norco, Calif., Shiloh Duff of Scott City, Kan., Cody Green of Wichita, Kan., Cody Martin of Hutchinson, Kan., Travis Norton of Liberal, Kan., Patrick Wright of Clearwater, Kan., Josh Thomas of Sterling, Kan., Lisa Laney of Shawnee, Kan., Janny Ourn of Liberal, Kan., Chelsey Moore of Wichita, Kan., and Chloe Wootton of Norco, Calif. Bryce Bassett of Goddard, Kan., will be the stage manager for the production.