Chinese class offered over interterm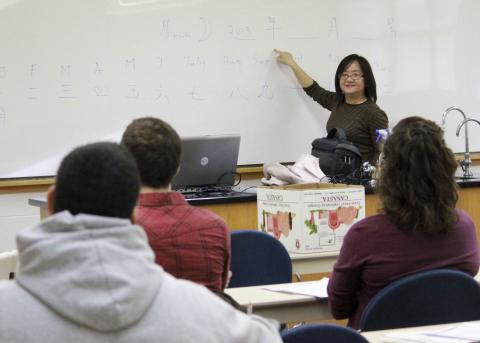 Wednesday, January 23, 2013
Among the typical general education courses offered during Sterling College's interterm session, one particular class stood out this year. From Jan. 8-25, eleven students had the unique opportunity to dive into the culture of East Asia in a Chinese class.
The course, taught by Associate Professor of Biology Dr. Wai-Foong Hong, involved the students learning how to read, write and speak up to 300 characters of the Chinese language in the modern Pinyin system, including simple question-and-answer dialogue and how to write in Chinese calligraphy with a traditional brush. They also gained experience in Chinese culture, philosophy and history.
Hong was born in Malaysia and has family ties to China. She can speak Mandarin and three other Chinese dialects. She began teaching biology courses at Sterling College six years ago, but when the door opened for Hong to teach the Chinese course, she willingly accepted it.
"The class went very well and I enjoyed it very much," said Hong. "The best part is seeing the students' high motivation to learn Chinese."
The students found many of the cultural lessons taught in the class to be fun as well as educational.
"We got to take a trip to P.F. Chang's China Bistro in Wichita to learn how to order authentic Chinese food, we sang songs to help memorize our vocabulary and we even got to prepare a Chinese New Year feast by making dumplings," said junior Emily Walker of Sterling, Kan.
Walker was encouraged to sign up for the course as she plans to go on a mission trip to East Asia through Sterling College this summer. "It is really cool to be able to learn about the culture and people that I will interact with in Asia before I actually go there."