Chorale to perform at UPC on Mar. 24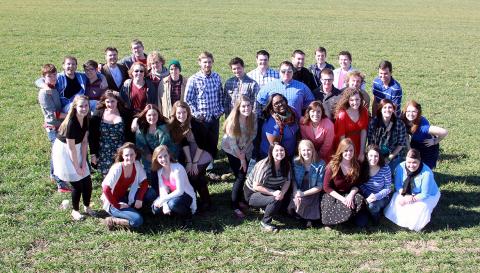 The Sterling College Chorale and Highland Singers will give their final performance of the annual spring break choir tour titled "From the Windy State to the Windy City" on Sunday, March 24. The concert will take place at the Sterling United Presbyterian Church at 3 p.m. The concert is free and open to the public.
The Chorale members will be singing a variety of selections including classical sacred, spirituals and hymn arrangements, contemporary anthems and musical theatre selections. The choir will be under the direction of Mark Clark, assistant professor of music, and will be accompanied by Dr. Brad Nix, associate professor of music at Sterling College. Dr. Laura Bateman, assistant professor of music, will also perform.
The group made 10 stops on their tour that began Thursday, March 7. They started the tour in Hutchinson, Kan., and then traveled northeast through Iowa and Illinois. After three days of performances in Illinois, the group returned to Kansas for four more performances. The concert in Sterling will conclude the tour.
"This was by far one of the best choir tours we have had during my time at Sterling College," said Mark Clark. "From the consistency in performances to the spiritual formation and devotional times we shared as a group, there was great community in all aspects of the tour."