Christmas music opens the season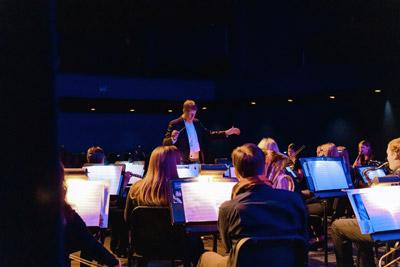 Tuesday, November 29, 2022
Christmas can mean a lot of things: family, traditions, gift-giving and one thing that unites everyone – young and old alike: music. The Sterling College Music Department is doing their part in ringing in the season with two Christmas concerts this weekend. 
"Welcome Christmas" featuring the Sterling College Choir will be first on Saturday, December 3, at 6 p.m. at the Sterling United Presbyterian Church. The following day, Sunday, December 4, at 3 p.m., there will be the Sterling College Symphonic Band concert "The Sounds of Christmas." The band concert will be in Culbertson Auditorium on the Sterling College campus. 
Band Director Larry Brownlee said, "I think everyone loves Christmas music. It is a celebration of the birth of Christ and is filled with joy, a sense of anticipation and wonder. It's also very nostalgic. The sounds of Christmas songs take us all back to our childhood and wonderful memories."
"Welcome Christmas" will not only include the Choir but also Sterling's select vocal ensemble Highland Singers. Director Marisa Callan has chosen songs that are guaranteed to take audiences back to their childhoods and warm memories of Christmases past. The concert will feature songs from several Christmas movies and shows including "How the Grinch Stole Christmas," "A Charlie Brown Christmas," and "Home Alone," among others. Dr. Christie George, music department chair, will accompany the vocalists on piano. 
Two of Director Callan's students will be conducting numbers in the concert. Junior Keeley Coon from Eureka, a music education and music theatre major, will be directing the song "Once Upon A December" from the Broadway musical Anastasia while fellow junior Luke Harding of Sterling, also a music education major will direct "Somewhere in my Memory" from the movie "Home Alone."
Coon said, "While it is challenging to get in front of your peers to direct, everyone has been great to work with. I feel I have really grown in my artistic expression through having the opportunity to direct like this." She added, "I have always loved the score from this show and this song is beautiful."
Harding said, "The song I'm directing just sounds like Christmas to me. It's warm and fuzzy and by famous composer John Williams. People may not be familiar with the title but as soon as they hear it, they will recognize it."
It's a full weekend of Christmas music for Coon and Harding and other Sterling singers. On Friday night at 8 p.m., they will be featured sharing Christmas music at Stutzmans Greenhouse in Pleasantview, near Hutchinson. The Sterling singers will be featured along with other vocal music from area schools for that event. Many of the singers in choir will also be featured in the Sunday band concert as well. 
Director Brownlee said, "The opening piece on the band concert 'Christmas Exhilaration' embodies everything that I think a great Christmas song for band should have.  It's fast, rhythmic, contains short statements of Christmas songs, before the full carol 'O Come All Ye Faithful' is heard in the horns.  It's beautiful and truly exhilarating."
"On an Olde English Carol" is a favorite of Brownlee's because it is so different from the rest of the concert and not a typical Christmas Carol.  It is based on the "Coventry Carol" which is actually a dark lullaby mourning the loss of the children who were put to death as King Herod attempted to find and kill the baby Jesus.  The work opens with the voices of the mourners singing the souls of their children to sleep. Brownlee finds the work both beautiful and sorrowful.
Brownlee said, "It's hard to say which piece is the most challenging. Each one has its own challenges. The final piece of the concert, 'Dashing Through the Snow,' goes at a blazing fast tempo while going through 26 meter changes.  It's a great finale to the concert."
Brownlee said, "When the audience leaves the concert, I'd love for them to have a child-like sense of wonder and anticipation as we begin the Christmas season.  Everyone should leave with a smile on their lips and joy in their hearts."
Both concerts are free of charge and open to the public. Each concert will be livestreamed as well at www.sterling.edu/arts. 
Sterling College is a Christ-centered, four-year college located in Sterling, Kansas, with a mission to develop creative and thoughtful leaders who understand a maturing Christian faith. For more information, visit www.sterling.edu.