Comley, Lacey named 2021 Outstanding Graduates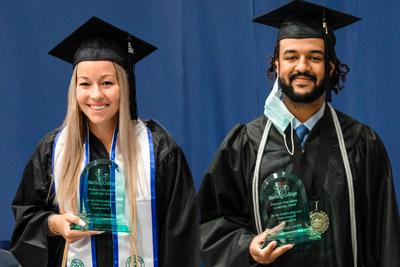 With years of hard work and service behind them, Sterling College seniors Kylah Comley of Sterling, Kan., and Ezekiel Lacey of Shoreline, Wash., were named the 2021 Outstanding Female and Male Graduates in conjunction with the Fran Jabara Leadership Award. 
The awards are given to two students who exemplify outstanding academic achievement, leadership skills and involvement, and who portray an enthusiastically Christian faith. They must have a cumulative GPA of 3.4 or higher and are voted upon by faculty and staff.
Comley earned her Bachelor of Science in Elementary Education and Exercise Science: Secondary Education, graduating with honors of summa cum laude and was a Kelsey Scholar. During her time at Sterling College, she was actively engaged in the campus community, playing on the women's tennis and women's basketball teams.
"She is known by many for her amazing ability on the basketball court but what most do not know about is her diligence and excellence in the classroom," said K.C. Bassett, head women's basketball coach. "When I think about her, I think about how she is one of the hardest workers I have ever been around. She is also extremely thoughtful and empathetic. She truly loves to serve others and seeks out ways to connect and build relationships. Her work ethic, thoughtfulness, and servant's heart, paired with the high expectations she has of herself as a Child of God, have propelled her to be the best she can be in all areas of her life. This award is extremely well deserved and I am so proud of her for receiving this honor."
Lacey completed his Bachelor of Arts in Psychology: Research and Clinical, with honors of magna cum laude and was a Kelsey Scholar. He played on the men's basketball team and served as team chaplain during his senior year for the men's basketball team. He served on student government and served as a resident assistant as well. 
"He is one of the most thoughtful people I have ever had the privilege of knowing.," said Paul Brandes '11, associate vice president for student life. "He is a remarkable listener who asks poignant and insightful questions. In addition, he is the very embodiment of 'servant leadership,' always humbling looking out for the needs of others."
The Professor Fran Jabara Leadership Award was established in 2002 by Professor Fran Jabara, former Dean of the Wichita State University College of Business Administration, and recognizes graduating seniors from four-year, private Kansas colleges who display exemplary leadership skills.
Sterling College is a Christ-centered, four-year college located in Sterling, Kansas, with a mission to develop creative and thoughtful leaders who understand a maturing Christian faith. For more information, visit www.sterling.edu.