Conard presented with McCreery Teaching Award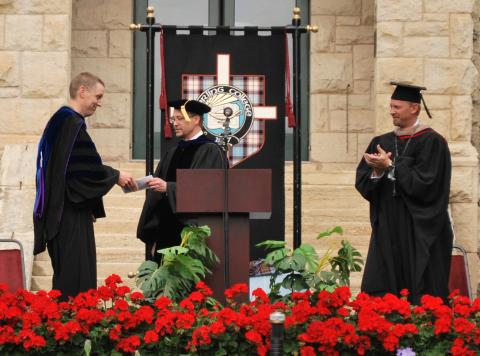 Dr. Jonathan Conard, assistant professor of biology, was awarded the 2012-2013 McCreery Teaching Award at Sterling College's 121st Commencement Ceremony on Saturday, May 18.
The McCreery Teaching Award recognizes and encourages excellence in teaching and is presented to a faculty member whose efforts have provided noteworthy and innovative instruction to Sterling College students during the academic year. The award was established in honor of Sterling College's fourth president, William M. McCreery, and has been awarded to one outstanding faculty member each year since 1977.
A student who wrote about Conard said, "He is very understanding and caring for each student, and I appreciate that greatly." Other students mentioned liking his ability to make difficult material understandable and interesting, and ensuring that everyone in the class fully grasps the concepts and lessons he teaches.
At commencement, Dr. Gregory Kerr, vice president for academic affairs, said, "The Selection Committee noted his willingness to assist colleagues and that, well, students talk—and they have never heard a negative word from students about him. But the award is meant to recognize significant teaching activities. The committee pointed to this year's recipient engaging students in ongoing research projects as evidence of the kinds of enrichment he brings to student learning."
Under the instruction of Conard, students at Sterling College have been involved with an ongoing research project monitoring deer movement patterns and densities at Quivira National Wildlife Refuge. Work from the project has been featured on the Outdoor Channel's show "The Bone Collector" and in a special section of the Kansas Department of Wildlife, Parks, and Tourism website.