Contemporary drama on tap at Sterling College Theatre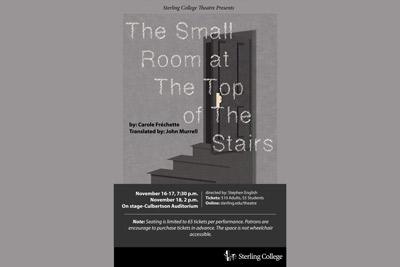 A contemporary play that has been compared to a Hitchcock-like suspense is next in this year's Sterling College Theatre season. That show is "The Small Room at the Top of the Stairs" by Canadian playwright Carole Frechette which will be staged Friday and Saturday, November 16 and 17 at 7:30 p.m. and Sunday, November 18 at 2 p.m. in Culbertson Auditorium on the Sterling College campus.
Directed by Sterling College Theatre professor Stephen English, "The Small Room at the Top of the Stairs" features a cast of five. The play centers around a young woman named Grace who has married a rich middle-aged man. He has given her full rein over a luxurious mansion and filled it with everything she wants. His one request is for her to never go to the small room at the top of the stairs. Of course, human nature being what it is, that is the one thing she craves more than air and water, so as soon as he leaves on a business trip, that is just where she heads. What she finds, or thinks she finds, promises to enthrall or horrify audiences in equal measure, while the premature return of her husband sets the stage for dramatic fireworks of a very potent kind.
Sterling College senior Alyssa Hershey from Wichita plays Grace, the young wife at the center of the drama. Junior Marshall Williford from McPherson plays her husband Henry. Three other characters figure in the plot: Grace's doting mother Joyce, played by senior Kaleigh Pitre from Point, Texas, and doubting sister, Anne, played by freshman Kimberly Loya-Enriquez from Garden City. Emily Crowley, junior from Collinsville, Okla., plays Jenny, the maid who arouses suspicion even as she courts devotion.
Director English has staged the thought-provoking play in an intimate fashion with the audience seated on the stage of Culbertson Auditorium. Due to the special staging, audience capacity will be limited. Tickets are $10 for adults and $5 for students at the door.
Sterling College is a Christ-centered, four-year college located in Sterling, Kansas, with a mission to develop creative and thoughtful leaders who understand a maturing Christian faith. For more information, visit www.sterling.edu