Cramton, Ehresman named Teachers of Promise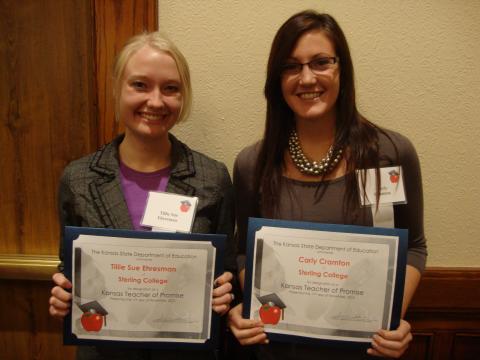 Wednesday, November 28, 2012
Seniors Carly Cramton of Pretty Prairie, Kan., and Tillie (Wilbeck) Ehresman of Inman, Kan., were nominated as Sterling College's fall Teachers of Promise.
This recognition by Sterling and the Kansas State Department of Education is awarded to students who are one semester away from clinical teaching and exhibit exemplary character, dedication and achievement.
Sterling Teacher Education Program Director Terri Gaeddert said, "We were pleased to have Carly and Tillie representing Sterling College. We have so many quality candidates that it is often difficult to select just two Teachers of Promise. Carly was chosen to represent the elementary candidates, and Tillie represented the secondary education candidates. Both ladies demonstrate strengths in their content knowledge and pedagogical skills. They also display the integrity, dependability, effective communication, appropriate attitude and leadership we consider foundational for educators."
As recipients of the Teacher of Promise award, Cramton and Ehresman participated in a one-day conference and banquet with the 2012 Kansas State Teacher of the Year Team in Wichita on Nov. 17. The workshops involved building a trusting classroom environment, technology in the classroom, authentic learning and other hands-on activities.
"The best part of receiving this honor was going to the banquet where the 2013 Teacher of the Year nominees shared their stories and were honored to have students write in on their behalf about how they have changed their lives," said Cramton. "It was touching to hear a few of the teachers talk about how important it is to love your students and that the love of Christ is the greatest thing we have to give. We can try to teach students anything, but if we don't show them the love we have inside, they won't trust or respect us. It's all about building relationships with students and using that to elevate their learning experience. What a blessing it was to hear we have so many amazing teachers using this philosophy in Kansas and sharing it with our nation."
Ehresman said, "I really enjoyed the morning workshop put on by the most recent Teacher of the Year Team. My favorite part of the workshop was getting to see and experience what authentic learning really looks like in a classroom and how I can plan for it as a teacher. Authentic learning is a concept where students experience something before they learn about it, making it easier for them to connect the ideas. I have heard this method discussed many times in my education classes, but at this workshop, I really learned how to use it."