Cureton honored with Sterling College Alumni Award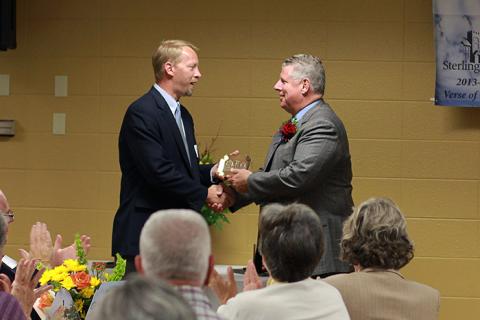 Wednesday, October 23, 2013
Nominated for his many accomplishments and contributions to his Alma Mater, Dr. Alan Cureton was awarded the 2013 Sterling College Alumni Award at the homecoming alumni banquet on Saturday, Oct. 19. Cureton is currently the president of University of Northwestern – St. Paul.
"It was an honor to recognize Dr. Cureton with the Alumni Award. He has a lifelong commitment to personal enrichment and has worked to provide opportunities for others to attain higher education. He has a love and devotion to Christ and His Word, and has embodied a servant leader through the many ways he has served God at Sterling College as an employee, Trustee, and parent of SC students. Dr. Cureton exemplifies the Sterling College mission of developing creative and thoughtful leaders who understand a maturing Christian faith, and we are proud to have him as an alumnus of our College" said Scott Rich, president of Sterling College.
Cureton graduated from Sterling College in 1976 with a degree in biblical studies. In the 90s, he served as a lay pastor for four years while simultaneously working for Sterling College as vice president for student services and vice president for administration. He also served on the Board of Trustees for Sterling College from 1998-2012. During that time, he chaired two presidential search committees and served on committees for advancement, student life and Board membership.
Cureton has spent the majority of his career working in higher education, holding variety of offices over the last 35 years at Southern Illinois University, Southeastern Illinois College, Iowa State University, Sterling College, John Brown University and Northwestern College, now University of Northwestern – St. Paul. His experience includes intramural coordinator, assistant to the president, resident director, assistant dean and dean of student development, external coordinator, policy analyst, and vice president for three separate offices: student services, administration and university advancement. All of this experience culminated to his current job, president of University of Northwestern – St. Paul.
Under Cureton's leadership, Northwestern revived its graduate programs beginning in July 2005. They currently have a total of five master's programs with more in planning stages. This past May, they began a baccalaureate nursing program. Cureton has generated millions of dollars in funding for Northwestern's annual fund, endowment and campus buildings. He also led the effort for Northwestern to transition from NAIA to NCAA Division III status and is currently serving on the President's Council for the NCAA DIII.
Cureton also has a history of becoming involved in the community that surrounds his location. He was involved in the community through Rotary Club in Sterling, Kan., and Siloam Springs, Ark. While serving as vice president for university advancement at John Brown University, he also served on the Siloam Springs Chamber of Commerce. His current community involvement includes the Minnesota Prayer Breakfast Committee and the Minnesota Campus Compact.
Cureton earned his M.S.Ed. in Higher Education from Southern Illinois University – Carbondale and his Ph.D. in History and Philosophy of Education from Iowa State University. He is married to Gayle (Tedford) '75, and they have three children, Luke, Rachel and Michael. Luke '03 attended Sterling College and now works for SC as the head men's and women's golf coach and assistant men's basketball coach. Luke's wife, Erin '07, works at Sterling College as the visit experience coordinator. 
Sterling College is a Christ-centered, four-year college located in Sterling, Kan., with a mission to develop creative and thoughtful leaders who understand a maturing Christian faith. For more information, visit www.sterling.edu.
CUTLINE: Dr. Alan Cureton receives the Alumni Award from Sterling College President Scott Rich on Saturday, Oct. 19. Cureton was recognized as an outstanding alumnus for his contributions to Sterling College as an alumnus, Board member, parent of SC students and employee of the College.