Debate captures first at the Christmas Classic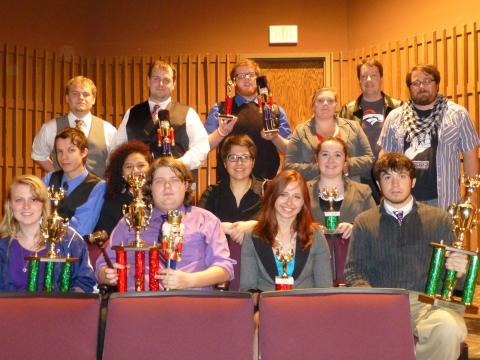 Friday, December 14, 2012
This past weekend at the Christmas Classic Tournament, the debate team captured first place in parliamentary debate as well as Lincoln-Douglas debate. The tournament was held at Cameron University in Lawton, Okla., on Nov. 30 through Dec. 2.
Not only did the team walk away with a first place victory, but the duo of Nolan Chaney of Hutchinson, Kan., and Nolan Goodwin of Salina, Kan., ended the parliamentary debate competition undefeated, beating the University of Texas-Tyler in the final round. In Lincoln-Douglas debate, Stefan Mattox of Hutchinson, Kan., took an individual win over Ranger College. Mattox and Goodwin also qualified for the National Forensic Association National Competition in Lincoln-Douglas debate to be held at Marshall University in West Virginia in April. They will be joining Chaney, Mary Torrez of Hutchinson, Kan., and Brandon Hoesli of Salina, Kan., at the competition.
Other successes from the tournament include Courtney Cavazos of Hutchinson, Kan., and Mattox's advancement to the octafinals in parlimentary debate. Cavazos also took fifth place in the persuasion finals. Alex Lawhon-Bush of Newton, Kan., was the top speaker in parliamentary debate and advanced to the finals taking fourth place overall. Lexi Rutberg of Fort Collins, Colo., advanced to her first collegiate final round of competition in dramatic interpretation taking sixth place.
The team will compete next at the Gorlock Gala from Jan. 25 through 27 at Webster University in St. Louis, Mo.