Debate Meets with Success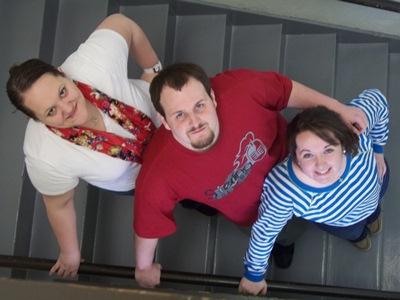 Wednesday, February 15, 2012
While the weather has been oscillating between winter and spring, the Sterling College debate team has maintained a steady collision course with the National Parliamentary Debate Association Tournament, to be held in March in Bellingham, Wash.
Over the weekend of February 3-5, the team captured first place overall at the Kansas Wesleyan Invitational tournament, finishing ahead of Cameron University, Wiley College, Hastings College, Southwest Baptist University and a host of other competing institutions.
The team amassed an overall preliminary round record of seventeen wins against just three losses, which marks the highest win total and percentage this season.
The team of Jessica Brayton of Lyons, Kan., and Nolan Chaney of Hutchinson, Kan., ended the competition with a perfect 8-0 record and first place overall. Ryan Corwin of Sterling, Kan., and Courtney Hensley of Hutchinson, Kan., finished in third place overall with a 5-2 record, dropping their semi-final round to Cameron University. The teams of Melzora Towne of Sterling, Kan., and Brandon Hoesli of Salina, Kan., as well as Alex Lawhon-Bush of Newton, Kan., and Brett Smith of Sterling, Kan., advanced to the quarterfinal round of competition, finishing in a tie for fifth place overall.
The team has been ranked thirteenth in the nation for over a month, with hopes of moving up. Given their results at this most recent tournament, those hopes seem well-grounded.
The team has also fared well in recent forensics competitions. At the Zombie Apocalypse tournament hosted by Hutchinson Community College, Shane Rogers of Wichita, Kan., finished fifth in Dramatic Interpretation while Lawhon-Bush was named tournament champion in Impromptu Speaking. In Duo Interpretation, the team of Smith and Ashley McHenry of Hoisington, Kan., finished third while Vance Stegman of Lyons, Kan., and Scott McKinney of Superior, Neb., finished fourth. At the Kansas Wesleyan Tournament, Samantha Davison of Wichita, Kan., and Corwin finished in fifth place in Duo Interpretation. Corwin also placed sixth in After Dinner Speaking. In Persuasive Speaking, Hensley finished fourth, just ahead of teammate Lawhon-Bush, who ended the competition in fifth. Brayton finished fourth in Communication Analysis. Both Brayton and Lawhon-Bush have qualified to attend the American Forensics Association National Tournament to be held in San Marcos, Texas, in early April.