Debate Team dominates competition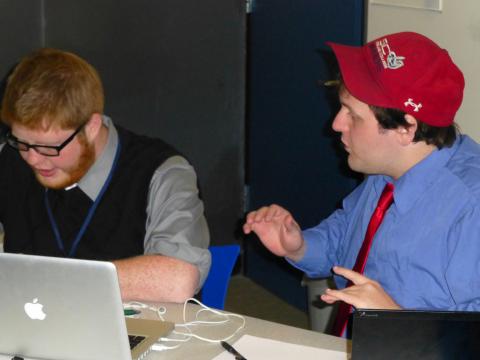 Thursday, October 4, 2012
For the fifth consecutive year, Sterling College won the Debates on a Plain Invitational. The team also won the Parliamentary Debate portion of the tournament while simultaneously taking first and second in Lincoln-Douglas Debate.
The tandem of Courtney Cavazos of Hutchinson, Kan., and Brandon Hoesli of Salina, Kan., captured the parliamentary debate tournament championship by winning a split decision with the University of Central Missouri. En route to the final round victory, the duo topped teams from Cameron University, Kansas Wesleyan University, Hastings College, Southwest Baptist University and the University of Nebraska-Lincoln. The two amassed a perfect 8-0 record overall. Additionally, Cavazos was awarded second place speaker overall.
The Sterling College duo of Nolan Chaney of South Hutchinson, Kan., and Tyler Brotton of Newton, Kan., also advanced to elimination rounds, finishing in third place overall with a 4-2 record.
In the Lincoln-Douglas debate, Sterling College duplicated their parliamentary success by taking first overall as a team and individually. With the topic for argumentation being organic and/or sustainable agriculture, Sterling College had considerable success by capitalizing on the farm background traditionally provided by being a part of rural Kansas. Individually, Mary Torrez of Hutchinson, Kan., and Chaney closed out the final round of competition, meaning that all other schools and opponents had been eliminated, leaving the two SC representatives to take the top two spots. Hoesli dropped a split decision to Cameron University in the quarterfinal round and finished fifth overall, but was rewarded by being named the top Lincoln-Douglas speaker.
Coach Ken Troyer was particularly impressed with freshman Torrez, as well as Hoesli, as he said, "both were competing in events that they have never entered before, so their success says a lot about their innate abilities."
The team travels next to Bethel College to co-host and compete in the Sunflower Swing Debate and Individual Events Swing on Oct. 5-7.