Debate Team Ranked 13th in the Nation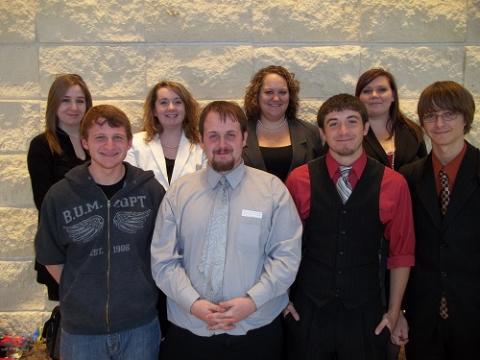 Wednesday, December 14, 2011
The Sterling College debate team beat regional rival and third in the nation Texas Tech en route to a first place finish at the Cameron University Christmas Classic tournament hosted December 3-4 in Lawton, Okla. This win helped the Sterling College team secure a ranking of 13th in the nation.
In the Forensics competition, Alex Lawhon-Bush of Newton, Kan., captured the tournament championship in Extemporaneous Speaking and earned a giant Christmas nutcracker for her efforts.
This marks the fourth tournament this season that Sterling College has won. Sterling amassed a team total of 18 wins against six losses, scoring 126 points to easily outdistance second place finisher Texas Tech with 92 points, and third place Southwest Baptist University with 91 points. The tournament consisted of 20 top debate programs in the regions, including the likes of those listed above, as well as the University of Oklahoma, Drury University, Oral Roberts University, West Texas A&M, Wiley College, University of Houston, Abilene Christian University and many more. 
Every team Sterling College entered in the competition finished with a winning record and advanced to the elimination rounds, bringing home a wave of awards. Brandon Hoesli of Salina, Kan., and Melzora Towne of Sterling, Kan., finished in ninth overall with a 4-2 record, Nolan Chaney of South Hutchinson, Kan., and Jessica Brayton of Lyons, Kan., finished in a tie for fifth with team mates Courtney Hensley of Geneseo, Kan., and Ryan Corwin of Sterling, Kan. Brett Smith of Sterling, Kan., and Alex Lawhon-Bush debated Texas Tech for six consecutive rounds and advanced to semifinals before finishing in third place with a tournament record of 6-2. Individually Courtney Hensley was recognized as being the fourth speaker overall while Jessica Brayton earned ninth.
Other Forensics results include: Jessica Brayton, who finished in fourth place in Persuasive Speaking and fifth in Communication Analysis, and the team of Ryan Corwin and Samantha Davison of Wichita, Kan., who finished fourth in Duo Interpretation.