Debate Team selected for National Parliamentary Debate Tournament of Excellence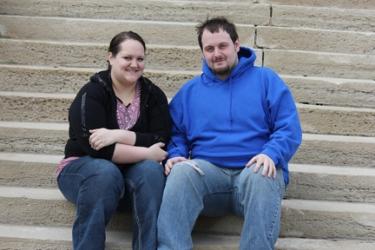 Monday, February 27, 2012
The debate team has achieved another significant milestone. Senior Jessica Brayton of Lyons, Kan., and junior Nolan Chaney, of Hutchinson, Kan., have been selected to participate in the National Parliamentary Debate Tournament of Excellence (NPTE).
The pair received a second round bid to the NPTE, which will be hosted by Western Washington University in Bellingham, Wash., on March 17-19.
The tournament recognizes the top 64 teams in the nation, awarding 24 first-round bids, 24 second-round bids and sixteen at-large bids. The Sterling College duo is currently ranked 33rd in the nation, having earned a 38-17 record. Following the NPTE tournament, they will compete at the National Parliamentary Debate Association National Tournament, on March 21-24 at Western Washington University.
Coach Ken Troyer said, "It's great to see Jessica and Nolan be recognized with this honor. It's been one of their goals for the season. With schools more than 10 times our size in the field, it's great to see that our students have every bit their talent, if not more."
As a team, Sterling College is ranked thirteenth nationally and is the smallest school to receive the NPTE invitation. For the fourth consecutive year, Sterling College has been recognized for having one of the elite teams in the nation, as well as consistently being nationally ranked in the top 25.