Debate team takes first at JV Nationals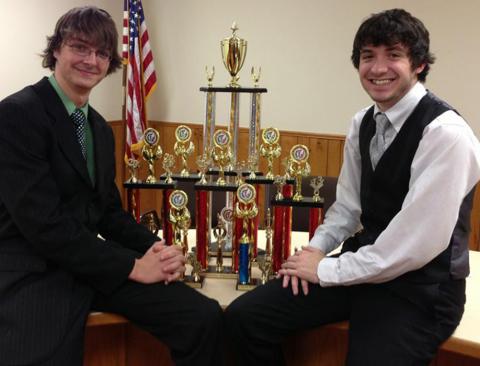 The debate and forensics team had a busy spring break at the JV Nationals Tournament hosted by Hutchinson Community College from March 8-10. The team took first place in each individual debate event, leading them to capture first overall and defend their JV nationals champion title from 2012. The tournament was open for all students in their first or second year of collegiate competition.
Individual successes from the tournament include Brandon Hoesli of Salina, Kan., earning four first place awards including parliamentary debate and Lincoln-Douglas debate as well as first speaker awards in both events. Additionally, Hoesli placed sixth in extemporaneous speaking. Hoesli's partner Tyler Brotton of Newton, Kan., took first place and earned the sixth speaker award in parliamentary debate. Benjamin Mast of Hutchinson, Kan., was named eighth overall speaker in parliamentary debate and his partner Ashley McHenry of Great Bend, Kan., earned ninth overall speaker in parliamentary debate.
The team travels next to the National Parliamentary Debate Tournament at the University of the Pacific in Sacramento, Calif., from March 21-26.