Debate Team Victorious Again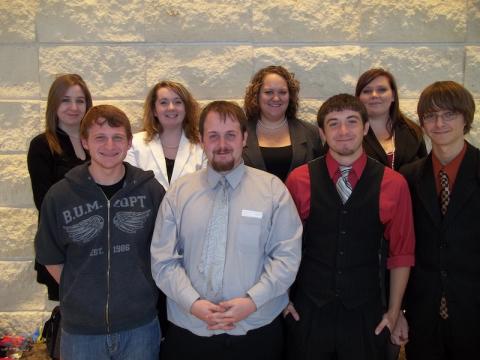 Wednesday, October 19, 2011
The Sterling College Debate team returned from Texas victorious, winning their 2ndtournament of the season. The tournament was held on the campus of West Texas A&M and co-hosted by Kansas Wesleyan University October 7-9. Sterling had three teams advance to elimination rounds, with Alex Lawhon-Bush and Brett Smith named tournament champions while team mates Jessica Brayton and Nolan Chaney finished 2nd overall, and Brandon Hoesli and Courtney Cavazos placed 3rdoverall. Every Sterling team that participated in the tournament, finished with a winning record.
In overall team sweepstakes, Sterling finished 1st, with a combined record of 15-5, topping Cameron University, Kansas Wesleyan University, University of Oklahoma and West Texas A&M. This marks the second time that SC has captured 1stin overall team sweeps at the West Texas A&M tournament.
Individually, Sterling had several students recognized as top speakers. In the varsity division, Alex Lawhon-Bush was awarded a cowboy hat in recognition of being the top speaker in the tournament.      
The SC Forensics team was also in action at the West Texas A&M tournament, competing in two separate tournaments on the 8th& 9th. In individual sweeps, Jessica Brayton was recognized as being the top individual competitor. This is no small feat, as Brayton beat out hundreds of other students while competing in four events herself. Even more impressive is the fact that she did this in both tournaments. In the first half of the tournament, Brayton finished 1stin Persuasive Speaking, 1stin Extemporaneous Speaking and 4thin Impromptu Speaking. In the second half of the tournament, Brayton finished 1stin Persuasive Speaking and 4thin Extemporaneous Speaking, while Alex Lawhon-Bush took 1stin Extemporaneous Speaking. The performance of Jessica Brayton qualified her for the American Forensics Association National tournament to be held in April at Ohio University.
The team will next be traveling to Bethel College in North Newton, KS to co-host the Sunflower Swing on October 14-16.