Dr. Curtis Beechan named Professor Emeritus of Chemistry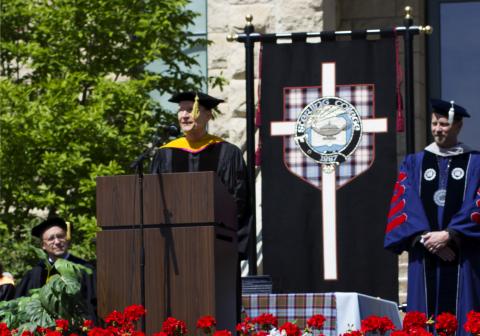 Former Professor of Chemistry Dr. Curtis Beechan was conferred the rank of faculty emeritus during Sterling College's commencement exercises on Saturday, May 17, on the East Cooper Lawn. Beechan taught at the College since 1986.
In order to obtain faculty emeritus status, a faculty member must have limited or terminated their responsibilities as a ranked faculty member, served for 15 or more years and reached a minimum of 60 years of age. Faculty emeritus status is designated and appointed by the Board of Trustees, after recommendation by the president, the vice president for academic affairs, and the Faculty Welfare and Fiscal Affairs Committee.
"Dr. Beechan, you are looked upon as a great mind by generations upon generations of Sterling College alumni. Sterling College is grateful for your service and your dedication to our mission. …May God continue to bless you and your service to Sterling College and to the community," said President Scott A. Rich.
"I appreciate having had the opportunity to teach chemistry here for over a quarter of a century. I enjoy teaching, and I would like to thank the College for this opportunity," said Beechan.
In 1996, Beechan won the McCreery Teaching Award for excellence in teaching. This award is annually presented to a professor whose efforts have provided noteworthy and innovative instruction to Sterling College students during the academic year. Students remember his classes for being difficult, but proper training for medical school or graduate programs. Beechan is also famous on campus for his sometimes explosive chemistry demonstrations.
During his time at Sterling College, Beechan served on several committees including the Academic Policy Committee and the Faculty Welfare Committee. He also spent some time serving as department chair.
Beechan received his B.S. in Chemistry from the University of California, Riverside and his Ph.D. in Organic Chemistry from Stanford University. He worked as a Postdoctoral Fellow at the University of California in both San Diego and Riverside. He was a supervisor and organic chemist for Rachelle Laboratories, Inc., and an organic chemist at Ultrasystems, Inc. Before coming to Sterling, he taught classes at Mount St. Mary's College (Los Angeles), Christian Heritage College (El Cajon), and Grossmont College (El Cajon).