Earle '91 named vice president for advancement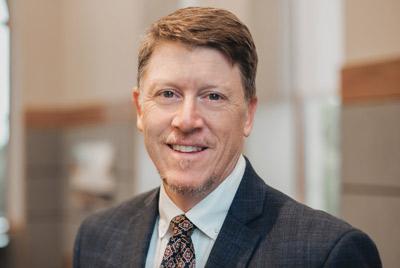 Sterling College has announced David Earle as the College's vice president for advancement. Earle previously served as associate vice president for advancement after rejoining his alma mater in the spring of 2020. The College is completing its $25 million SterlingNOW capital campaign and Sterling seeks to engage more alumni with volunteering and philanthropic giving. Sterling's strategic fundraising priorities focus on initiatives that boost student access and success, including increased scholarship support and experiential learning opportunities.
"The College will be best served with David's decades of experience along with his knowledge of and passion for Sterling College," said Dr. Scott Rich, president. 
Earle previously served the College for more than a decade, beginning as director of development for the College's successful The Return of Cooper Hall capital campaign that raised over $10 million. Following his departure from Sterling in 2011, Earle served in leadership roles as vice president of advancement at Erskine College in Due West, S.C., Stonecroft Ministries in Kansas City and Bethany College in Lindsborg.
A native of Sterling, Earle graduated from Sterling College in 1991 with a bachelor of arts in Behavioral Science and attended St. Mary's University in Winona, Minn., for a master's in Philanthropy and Development. Earle's son Jonathan '11 and daughter Ashley (Earle) Brandes '09, are both Sterling graduates. His son-in-law, Paul Brandes '11, serves as Sterling's associate vice president for student life and church relations. David and his wife, Sherry, are residents of Sterling.
"Sterling College has had a very positive impact on my life in so many ways. My earliest babysitters as a child, my youth pastor, many of my teachers and coaches, mentors, and life-long friends are all Sterling College alumni. To be able to continue to serve my alma mater and work to grow the College is a great honor and blessing," said Earle. 
Sterling College is a Christ-centered, four-year college located in Sterling, Kansas, with a mission to develop creative and thoughtful leaders who understand a maturing Christian faith. For more information, visit www.sterling.edu.