Education majors visit Valley Center USD 262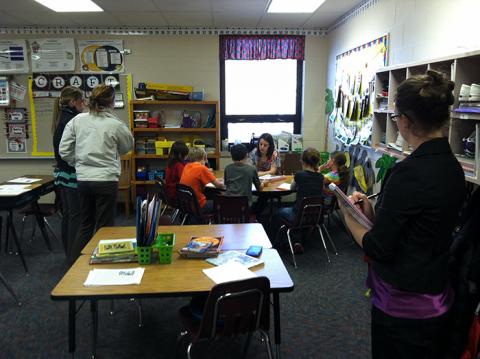 Elementary education majors and professors recently traveled to West Elementary school in Valley Center USD 262 to learn about Multi-Tier Systems of Supports. This state-wide systematic intervention model enables schools to coordinate and provide intervention instruction to ensure students meet the academic proficiency requirements in reading and math.
The teacher candidates observed MTSS at different grade levels and met with Principal Pete Bastian during their visit. Bastian explained how the schools use the principles of MTSS to identify the academic needs of its students and the procedures used in planning, implementing and evaluating the resources to make instructional decisions.
This was the third trip the Sterling College Department of Education has taken to the Valley Center school district to watch this specific program in action. Dr. Elena Righettini, assistant professor of education, first met Bastian two years ago at an MTSS conference in Wichita, Kan.
"This field trip offers teacher candidates a great opportunity to learn more about MTSS in practice," said Dr. Elena Righettini. "Pete Bastian takes the time to discuss the MTSS framework with our teacher candidates each semester and answers their questions. This is one of the many education experiences that connect classroom learning and teaching practice."