Ehresman, Mitchell Named Outstanding Students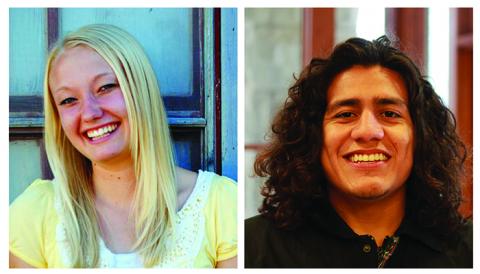 Tillie Ehresman of Sterling, Kan., and Micah Mitchell of Broomfield, Colo., were named Outstanding Male and Female Students and received the 2013 Professor Fran Jabara Leadership Award.
The Outstanding Student Award in conjunction with the Fran Jabara Leadership Award is given to two seniors who exemplify outstanding academic achievement, leadership skills and involvement, and portray an enthusiastically Christian faith. They must also have a cumulative GPA of 3.4 or higher and are voted upon by faculty and staff.
Ehresman graduated with a bachelor's degree in music with education licensure. She participated in Highland Singers, Chorale, theatre productions, SC mission trips and served as a resident assistant. She was named a Teacher of Promise this past fall.
Brad Nix, associate professor of music, said, "It has been a pleasure having her in our department these past four years. During her time at Sterling, I have constantly been impressed with her desire to grow musically, intellectually, and most importantly, spiritually. In addition to being an excellent musician, Tillie is blessed with a wonderfully inquisitive and caring personality. It is no surprise that she has been a role model for other students in the Chorale and in the music department as a whole. … I have no doubt she will become a remarkable educator, and I am sure God will use her to impact the lives of many students."
Mitchell earned a bachelor's degree in English. He played soccer for the College, participated in SC missions and served as a resident assistant.
Ben Swihart, resident director of Campbell Hall, said, "It has been a pleasure to work with Micah over the last few years. There are many things that stand out about him, but the first you will notice is his smile and exuberance for life. He has an upbeat personality and he is always positive and gregarious. Over the years I have seen him excel in relationship building and compassion for the people he is constantly surrounded by. … He displays high character and is truly a man of integrity. During his time here, he earned the respect of his peers, his teammates, and his RD."