Ehresman, Walker named 2014 SC Outstanding Graduates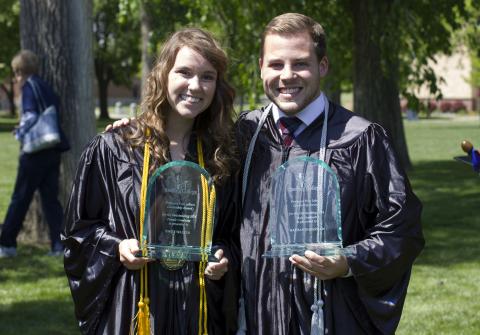 Each year, two Sterling College students who reflect the ideal Sterling College graduate receive the Professor Fran Jabara Leadership Award in conjunction with the Outstanding Male and Female Graduate award. This year, the award was presented to Nathan Ehresman of Wichita, Kan., and Emily Walker of Sterling, Kan.
The Outstanding Male and Female Graduate and Professor Fran Jabara Leadership Award is awarded to two students who exemplify outstanding academic achievement, leadership skills and involvement, and who portray an enthusiastically Christian faith. They must have a cumulative gpa of 3.4 or higher and are voted upon by faculty and staff.
Ehresman was described by his peers, faculty and resident directors as a leader, dedicated, selfless, diligent and compassionate.
"[Ehresman] is consistently engaged in the Sterling community – helping fellow students be successful and caring about them as people of God. He has been an excellent student and has always quickly grasped concepts and ideas. He will be an excellent servant of God wherever he goes," said Tom Bronleewe, assistant professor of theology and ministry.
As a student, Ehresman helped lead mission two mission trips, was a resident assistant in Campbell Hall, and was once the editor-in-chief of the STIR, the student newspaper. He won the Audience Pick Award at the Sterling College Film Festival and played ultimate Frisbee. Ehresman graduated with a B.A. in Christian Ministries: Youth and the honors of Kelsey Scholar and magna cum laude.
"[Emily's] life is full of Jesus. It is evident by her contagious smile, the bounce in her step, and her positive and Christ-like attitude. She does her best to include those around her in whatever conversation or activity she is involved in, making her an influential friend to so many. She was an essential member to last year's mission team to East Asia. …She had creative ideas, a bubbly personality and a love for the Lord that often reminded us of our purpose while overseas," said Addie Swihart, resident director of McCreery Hall.
Walker graduated with a B.S. in Elementary Education with the honor summa cum laude. "[Emily] will continue to make a difference in the lives of students. We are proud to have her representing Sterling College as she begins her first teaching job at McCandless Elementary in Hutchinson," said Terri Gaeddert, director of the Sterling Teacher Education Program.
Walker served as a resident assistant and was involved in theatre productions and mission trips. She completed her student teaching in the Chicago public school system.