Employees honored for 15 and 20 years of service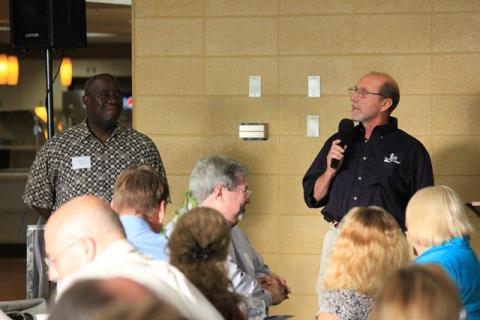 Thursday, August 30, 2012
Staff members were recognized for career benchmarks during the annual Kick Off Banquet on August 8, 2012. Hosea Bell and Song Kirk have served at the College for 15 years, and Vicky Kirchoff has served for 20 years.
Song Kirk began working for Sterling College in maintenance and housekeeping in 1997. She is known on campus for her sweet disposition and ability to make others smile.
Scott Rich, executive vice president and chief financial officer said, "Song has a huge heart for the students and works hard at making sure the job is done well. She is a great caretaker and supporter of our students."
Kirk is also locally known for her Thai cooking. Featured in the Hutchinson News on July 13, 2010, Kirk talks about the ingredients in her dishes, how she learned to cook, and her first experience with American food.
Hosea Bell is the head softball coach at Sterling College and campus security coordinator. This year will be his 15th season as head coach of the Lady Warriors. Under Bell's leadership, the softball team has a 488-294-3 record. He also served as an assistant football coach for 13 years and an assistant track coach for 3 years. This is his 10th year serving on campus security. 
"Hosea has built a competitive team and has a great connection with his players. He cares about the whole player, encouraging them to succeed both on and off of the field," said Gary Kempf, athletic director.
"I've enjoyed and continue to enjoy my years here," said Bell. "There is nothing better than being a servant for these kids. The Christian college atmosphere is a great environment and I love being at Sterling College."
Bell coached softball at Newman University before coming to Sterling. He has a B.S. in Social Work from Tabor College.
When Vicky Kirchoff, physical plant office manager, began working at the College, she worked as a housekeeper for Evans Hall and McCreery Hall. She quickly transitioned to supervisor of housekeeping, and in 2010, Kirchoff became the office manager. She now organizes transportation for athletics and staff, manages the campus keys and processes work orders and invoices.
Rich said, "Vicky is a gracious and tireless worker. She has been a great support staff for our maintenance department and is appreciated far beyond this campus alone. We recently were informed that one of our car rental companies believes Vicky is the 'Gem of Sterling College.' She is always stepping up to help and goes beyond the call of her job."
Kirchoff said she enjoys getting to know the students and developing relationships that go beyond the four years that they are at the College.