Employees honored for 5 years of service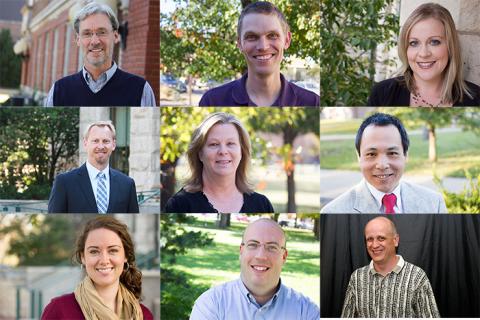 Nine employees reached their five-year benchmark in employment to Sterling College. Mark Clark, Jonathan Conard, Carrie McGlynn, Scott Rich, Mitzi Suhler, Sunny Sun, Karin Swihart, Tim Thorpe and Ted Weis were honored at the annual Kickoff Banquet at Sterling College on Aug. 8.
Clark, assistant professor of music, directs many of the choral ensembles. He also teaches choral classes and music theory.
Conard, assistant professor of biology, is chair of the Department of Natural Science and Mathematics. He teaches human anatomy and physiology, environmental science and senior seminar classes.
McGlynn is an admissions counselor. She recruits and assists students with the admissions process for the departments of education, theology and ministry, history and government and psychology.
Rich joined the College as the chief financial officer. He has served as executive vice president and acting president since May 2012 and was appointed interim president on Dec. 1, 2012. He is now serving as president of the College and will be inaugurated on Oct. 18, 2013.
Suhler has served as administrative assistant for innovation and technology and financial aid coordinator for the College. She is now the director of financial aid.
Sun is the instructional designer and programmer for Sterling College Online. He works with subject-matter experts to coordinate, design and maintain online and hybrid courses.
Karin Swihart is the director of marketing and presidential communications. She oversees the marketing and communications office, including public relations, website, social media, guest and conference services, news and media relations, creative design and the internal and external communications for the college. She also works for the Office of the President and serves as the liaison between the Board of Trustees and the National Advisory Council.
Tim Thorpe is an assistant professor of business. He teaches a variety of business classes including marketing, several management classes and business communication.
Ted Weis is an adjunct lecturer for the Department of Theology and Ministry. He is the pastor at the Congregational Church in Little River.
Sterling College is a Christ-centered, four-year college located in Sterling, Kan., with a mission to develop creative and thoughtful leaders who understand a maturing Christian faith. For more information, visit www.sterling.edu.
Cutline: Pictured from left to right: Row 1: Mark Clark, Jonathan Conard, Carrie McGlynn. Row 2: Scott Rich, Mitzi Suhler, Sunny Sun. Row 3: Karin Swihart, Tim Thorpe and Ted Weis.