Eshleman, Rodgers Sign Pro Contracts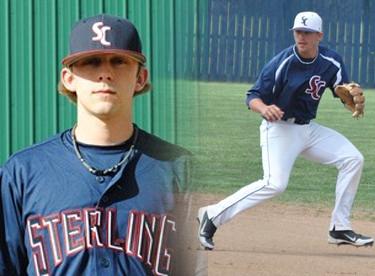 Two Sterling Warrior products Matt Eshleman and Stephen Rodgers have signed professional contracts.
Eshleman, a member of the 2013 World Series team, signed with the Fort Worth Cats in the United League. Eshleman was the 2012 KCAC conference reliever of the year posting 7-1 record, 4 SV, 1.58 ERA in 40 IP. In 2013 Eshleman posted a 2-1 record with 13 Saves, 3rd most in the country.
Rodgers, who played a key role for the Warriors for the last two seasons, signed with the White Sands Pupfish in the Pecos League.  Rodgers was a second team all-conference selection in 2012, hitting 0.326 with six homeruns and 47 RBI's.  Rodgers was a Rawlings Gold Glove winner fielding 0.988 and only making 3 errors his senior year.
"We are excited for the next chapter for them to continue playing. They both contributed greatly while they were here and the hard work has paid off. Every players dream is to play professional baseball and they are taking full advantage of it," commented Head Coach Adrian Dinkel.