Faculty honored for service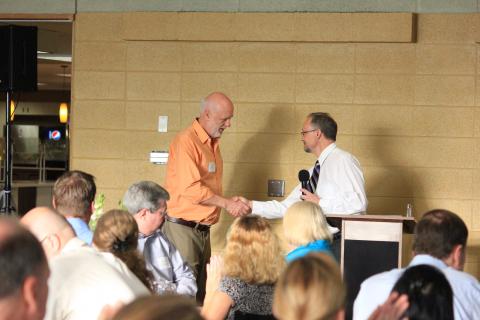 Thursday, August 23, 2012
Three professors were recognized for 10 years of service to the College on Wednesday, August 8 at the annual Kick Off Banquet. Terri Gaeddert, Merrillyn Kloefkorn and Dr. Henry Lederle have served Sterling College since 2002.
Terri Gaeddert is currently an associate professor of education, the director of the Sterling Teacher Education Program and chair of the education department.
"Everything Terri does, she does whole-heartedly," said Dr. Gregory Kerr, vice president of academic affairs. "She is committed to excellence, professionalism, and the Lord. She places high demands on her students, and they love it and her. She continues to model servant leadership in her classes and as a leader on campus."
Gaeddert has earned a B.S. in Education from Chadron State College with endorsements in mathematics, computer science and coaching. Her M.A. in Teaching is from Friends University, and she is currently working on her Ph.D. in Educational Leadership.
Merrillyn Kloefkorn has been a consistent Sterling College adjunct for more than 10 years, training students in reading instruction and language arts for the Sterling Teacher Education Program. She also organized the Sante Fe Trail Children's Literature Festival that was hosted on Sterling College's campus for nine years. By fundraising, selecting authors and speakers, and organizing the event, she served the children and teachers from area schools.
"Merrillyn is a wonderful adjunct instructor for the education department," said Gaeddert. "We are blessed to have her as part of our program.  Teacher candidates benefit from her exceptional knowledge and vast experience in the areas of reading and language arts."
She has a B.S. in Elementary Education from Emporia State University and an M.A. in Psychology from the University of Northern Colorado.
Dr. Henry Lederle has worked for Sterling College as a professor, dean of chapel, department chair of theology and ministry and the director of Global Missions. While working at the College he has written several books, including "Theology With Spirit," which was sold at the Frankfurt Book Fair in Germany.
Kerr said, "Dr. Lederle has had a huge influence on campus. His work with students is transformational; whether it is mentoring them, training them to lead worship, or engaging them in international missions, he does it all with grace."
Lederle earned a B.A. in Greek and Hebrew, a B.A. in Philosophy and an M.A. in Philosophy from the University of the Orange Free State. He went on to earn a B.Th., the equivalent of a Master of Divinity, and a Lic.Th. in Systematic Theology from the University of Stellenbosch. His second doctoral degree is from the University of South Africa, where he earned a Th.D. in Pneumatology with minors in Old and New Testament theology.