Fall scholarship recipients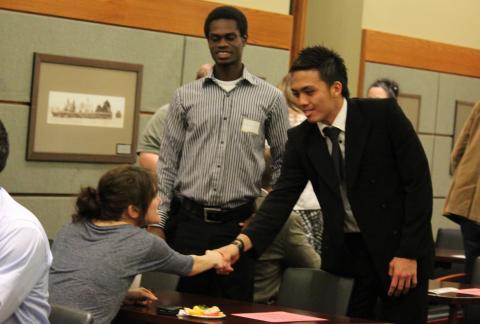 Thursday, December 13, 2012
The following students were awarded endowed scholarships through Sterling College for the fall semester of 2012.
Aleta Matthews Endowed Scholarship
Nathan Ehresman of Wichita, Kan.
Bill Thayer Memorial Scholarship
Ryan Ehresman of Wichita, Kan.
Emily Messick of Saint John, Kan.
Bob Calderwood Music Scholarship
Ashley Hasart of Norco, Calif.
Carol McCullough Brown Scholarship
Larissa Versaw of Canon City, Colo.
Castrodale Family Endowed Scholarship
David Tank of Bettendorf, Iowa                              
Charlie Brown Endowed Football Scholarship
Matt Edwards of Mena, Ark.
Clair and Clara Gleason Endowed Memorial Scholarship
Carley Chambers of Sioux Falls, S.D.
Austin Gautier of Lyons, Kan.
Daniel Karamoy of Tangerang Banten, Jakarta, Indonesia
College of Emporia Scholarship
Toby Hatfield of South Lake, Texas
Emily Konrade of Spearville, Kan.
Crosen Science Scholarship
Randi Morris of Hutchinson, Kan.
Debra M. Thomas Scholarship
Kaitlynne Turner of Washington, Kan.
Dorothy W. Belden Scholarship
Bayleigh Baker of Estancia, N.M.
Edris Welty-Edwards Endowed Memorial Scholarship
Lacey Rhoads of Peoria, Ariz.
Hugh Kelsey Endowed Scholarship in Religion and Education
Grant Brintnall of Bettendorf, Iowa
Drew Davis of Santa Clarita, Calif.
Nathan Ehresman of Wichita, Kan.
Tillie Ehresman of Inman, Kan.
Jennifer Lies of Minneola, Kan.
Jillian Linnebur of Colwich, Kan.
Brittany Outerbridge of Venice, Fla.
Emily Zerger of Derby, Kan.
Irwin Family Scholarship
David Tank of Bettendorf, Iowa
J. Lee Dye Business Scholarship
Matthew Bennett of Sterling, Kan.
Alexandra Faul of Hillsboro, Kan.
Kaitlin Sumption of Hanover, Ill.
James Henry Fair Sleeper Scholarship
Cody Rodriguez of Lyons, Kan.
Jerry Matthews Memorial Scholarship
Daniel Cloteaux of Lafayette, La.
Jim Mosher Scholarship
Scott McKinney of Superior, Neb.
Joe Henry Memorial Scholarship
Taylor Fair of Sterling, Kan.
John E. Edwards Endowed Memorial Scholarship in Sports
James Morley of Colorado Springs, Colo.
Julie Lynn Ray Memorial Scholarship
Taylor Fair of Sterling, Kan.
Kenneth and Virginia Fischer Education Scholarship
Lynette Bosch of Wichita, Kan.
Kadi Smith of Julesburg, Colo.
Klon Matthews Scholarship
Emma Brown of Augusta, Kan.
Max and Icee Moxley Scholarship
Nathan Ehresman of Wichita, Kan.
Maynard Peck Memorial Scholarship
Jennifer Vogt of Caledonia, Mich.
Ollie and Florence Hill Scholarship
Eddie Adesodun of Mesquite, Texas
Carly Cramton of Pretty Prairie, Kan.
Cassi Spleiss of Camp Verde, Ariz.
Joe Williams of Moreno Valley, Calif.
Rev. Alfred Bernadt Jr. Memorial Scholarship
Rachel Gardner of Topeka, Kan.
Robert Earl Tippin Memorial Scholarship
Kaylee Beutler of Clay Center, Kan.
Rose Eatinger-White Scholarship
Flor Parral of Liberal, Kan.
Roy Ray Endowed Scholarship
Mike Jaderston of Sterling, Kan.
Brian Noller of Russell, Kan.
Rupe-Bemis Memorial Scholarship
Priscilla Coronado of Yuma, Ariz.
Samuel A. Wilson General Scholarship
Josh Matthews of Davenport, Iowa
Sterling College Notable SC Alumni Scholarship
Tyler Brotton of Newton, Kan.