Five lady warriors earn All-KCAC honors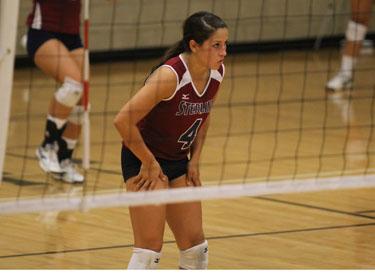 Tuesday, November 6, 2012
Five Lady Warriors earned All-Kansas Collegiate Athletic Conference (KCAC) honors for their 2012 performances. Both Adriana Gonzalez and Sara Steria were named to the All-KCAC First Team.
Hayley Ray was named the KCAC Freshman of the Year and to the All-KCAC Second Team. Both Ciara Ramos and Anna Simpson-Mills were named All-KCAC Honorable Mention.
Gonzalez has been Sterling's floor general in 2012, dishing out 1262 assists in the regular season and becoming Sterling's career assists leader. On the season, Gonzalez averages 10.88 assists per set and 2.96 digs per set.
Steria has been a hitting machine for Sterling during her senior year. Averaging 3.58 kills per set, Steria has 412 kills on the season. An all-around stellar player, Steria averages 3.71 digs per game.
Ray has been a great addition to the Lady Warrior program, collecting 317 kills and 108 blocks in her freshman campaign.
Ramos has been a solid middle hitter for the Lady Warriors. In the 2012 regular season, Ramos had 243 kills and 85 blocks.
Simpson-Mills has been a great option for Gonzalez, as the left handed outside hitter compliments Steria. This season, Simpson-Mills had 277 kills with an average of 3.01 kills per set.
The Lady Warriors open up tournament action tonight as Sterling travels to Hillsboro to take on Tabor College at 7:00 pm. The match is available on the Sterling College Sports Network courtesy of the KCAC Digital Network.