Fourth Annual High School Forensics Showcase at State Fair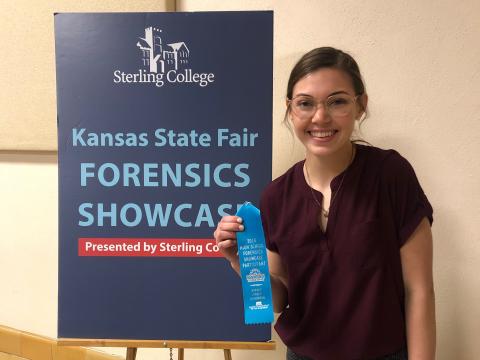 Tuesday, September 17, 2019
Living up to its claim of being "Kansas' Largest Classroom," this year's Kansas State Fair saw the fourth annual High School Forensics Showcase, presented by Sterling College. The event was held on Thursday, Sept. 12, in the Hansen Auditorium on the fairgrounds and was hosted and organized by the Sterling College Debate and Forensics team. Over 300 audience members saw one or more of the three sessions that day. 
Forensics is competitive speaking events which includes different types of speeches and different interpretation events such as poetry, solo acting and duet acting. While the forensics season for Kansas high schools is in the spring, the State Fair Showcase featured state champions and state finalists from last spring's championship tournaments. Each school classification (1A – 6A) has their own State Championship Tournament. 
A total of 22 performers shared their award winning pieces during the Showcases' three sessions. The Showcase featured state champions and finalists from last spring's state championship tournaments.
The annual State Fair event also drew forensics squads from several schools who did not have a participant in the showcase but who wanted to see the quality and examples of award-winning entries. 
"This is a unique opportunity to see the variety of quality performances going on across Kansas. This year's Showcase featured strong performances from both small high schools like Wheatland and Riverside as well as large, 6A schools like Salina South and Maize South," said Ken Troyer, coach of the Sterling College Debate and Forensics team.
Planning for the annual forensics showcase began last May after the Kansas State Championship Tournaments were held. Sterling College Arts Counselor Katie O'Brien led the organization efforts. 
"We are all very pleased with the turnout and response from the students and coaches," said O'Brien. 
Plans have already begun for next year's State Fair Forensics Showcase.
The Sterling College Debate and Forensics team has been ranked as one of the top ten programs in the nation. In addition, the Sterling team is the only one in the state of Kansas to qualify for both the American Forensics Association Nationals and the National Forensics Association Nationals. Additionally, Sterling's Gage Brookman '18 became the top speaker in the nation by winning the 2018 National Forensic Association Top Speaker distinction in Lincoln-Douglas Debate.
"The State Fair Forensics Showcase is a wonderful way to encourage these students to continue using their talents in college. Plus, I let the students know that, at Sterling, we award activity scholarships for Forensics and Debate, similar to athletics scholarships that are awarded in football or basketball, for example," said Troyer. 
Sterling College is a Christ-centered, four-year college located in Sterling, Kansas, with a mission to develop creative and thoughtful leaders who understand a maturing Christian faith. For more information, visit www.sterling.edu.