Freeman Lecture Series to begin in 2014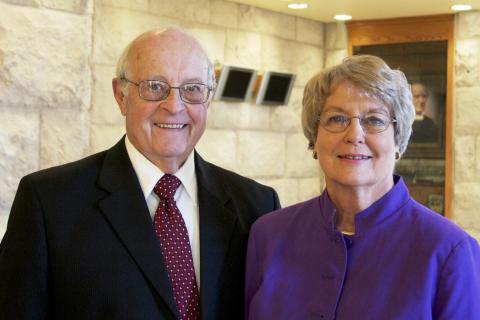 Thursday, January 31, 2013
Beginning in 2014, a new lecture series will be offered by Sterling College thanks to the generosity of Ross and Fern Freeman of Topeka, Kan. The Freeman Lecture Series, as it will be called, was created for Sterling College to promote servant leadership. There will be two lectures per year, one held on campus and one in the Wichita area.
"We hope that through these lectures, leadership will be distinguished as an act of service in which leaders make it their priority to serve others," Marvin Dewey, vice president for institutional advancement. "The series will help our community understand what a servant leader looks like, and challenge those in current leadership roles to constantly evaluate their priorities and practice."
The Freeman Lecture Series was founded on the idea that servant leadership not only has the potential to influence societal change, but can also provide both practical and successful management skills that can easily be applied to diverse situations. The series seeks to educate individuals on the various values and applications of leadership by highlighting the servant leadership attributes present in others.
"We are so appreciative of Ross and Fern. Their generosity will help us continue educating students about servant leadership, a foundational tenant of the Sterling College curriculum," said Scott Rich, president.
One goal of the series is to provide diverse speakers, leaders who demonstrate servant leadership in business, government, academia or non-profit organizations. Additionally, the speakers may be scholars in the leadership field or Christian leaders who plan to speak on the servant leadership model as demonstrated by Jesus Christ.
Ross Freeman is a graduate of Kansas State University, Washburn Law School and Harvard Business School. He earned his lay pastor certificate from Sterling College and consulted on the historic renovations of Cooper Hall, helping with the cost certifications, tax credit application and the process of the Cooper campaign. Freeman, a commissioned lay pastor, is currently a member of Topeka's Trinity Presbyterian Church, serving five three-year terms as an elder and four three-year terms as clerk of session. Ross is the president and owner of Pioneer Group, Inc., a real estate development company. He also serves as chairman on Historic Preservation Partners, Inc.
Fern Freeman is a graduate of Kansas State University and has spent her years teaching, running a small manufacturing company and serving as a full-time mother to her and Ross's four daughters. Now retired, Fern is finishing her third year on Trinity's Session and is the chair of the finance committee.