Freshman Adam Moore finishes third at national tournament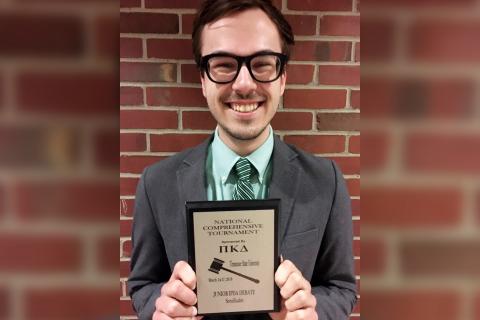 Freshman Adam Moore of Hutchinson, Kansas, finished third in IPDA debate at the Pi Kappa Delta Comprehensive National Tournament March 14-17. With competitors from 82 schools across 25 states, the PKD tournament was hosted at Tennessee State University. Overall, Sterling College finished eighth in the nation in large entry team sweepstakes.
"Adam Moore really took everyone by surprise, up to this point this year he has focused primarily on individual events, so finishing in third place was unexpected, but certainly a tribute to his ability to rise to the occasion," said Coach Ken Troyer.
Three Sterling College competitors earned excellence awards to signify their placement in the top 30 percent of all competitors. Gabriella Martinez of Hutchinson, Kansas, was recognized in informative speaking; Dara Quastad of Inman, Kansas, for persuasive speaking; and Wesley Lowrey of Topeka, Kansas, in impromptu speaking.
Troyer said, "Gabby, Wes and Dara have consistently proven themselves to be elite competitors, and their awards demonstrated that yet again."
Competitors who also represented Sterling College and assisted in contributing points to the team sweepstakes total at the national tournament include: Gage Brookman of Hutchinson, Kansas; Bethany Jenkins of Burns, Kansas; Stephen Jenkins of Topeka, Kansas; and Matt Scharff of Tonganoxie, Kansas.
Pi Kappa Delta is the oldest forensic organization in the United States.
The team will next compete at the American Forensics Association National Individual Events Tournament to be held at Colorado College in Colorado Springs, Co, April 6-8, with four students having qualified. Stephen Jenkins, Lowrey, Martinez and Quastad will represent the College in its largest contingent at AFA Nationals in four years.
Sterling College is a Christ-centered, four-year college located in Sterling, Kansas, with a mission to develop creative and thoughtful leaders who understand a maturing Christian faith. For more information, visit www.sterling.edu.