Froese awarded Faculty Emeritus of Psychology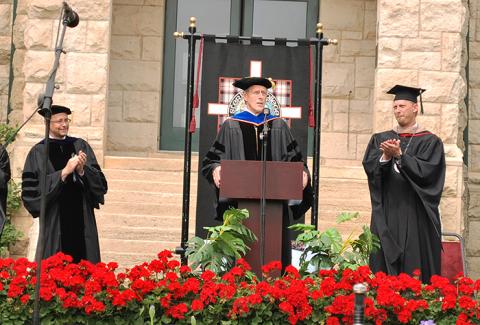 Professor of Psychology Dr. Arnold Froese was conferred the rank of Faculty Emeritus of Psychology during Sterling College's commencement exercises on Saturday, May 18. Froese has worked for the College since 1974 and served as chair of the psychology department.
In order to obtain faculty emeritus status, a faculty member must have limited or terminated their responsibilities as a ranked faculty member, served for 15 or more years and reached a minimum of 60 years of age. Faculty emeritus status is designated and appointed by the Board of Trustees, after recommendation by the president, the vice president for academic affairs and the Faculty Welfare and Fiscal Affairs Committee.
During Froese's time at Sterling College, he published over 20 scholarly articles, the most recent being presented last year about student cell phone use and information retention. Froese also presented on various topics at over 45 conferences and served on the national Southwestern Psychological Association.
President Scott Rich said, "Dr. Froese [is] cherished by generations upon generations of SC alumni. Sterling College is grateful for [his] service and dedication."
Froese addressed the crowd and said, "Graduates, I want you to know that about 60 years ago I started my school experience, and today I graduate with you…. I have enjoyed working as a professor of psychology all of these years. To the administration and my colleagues, I give you my deepest thanks for tolerating me, for working with me, for challenging me, for correcting me when I have gone wrong, and for conferring on me this new degree."
After asking his students to stand he said, "I am grateful. I thank you most deeply for giving me the platform, for giving me your ears to allow me to disturb you. To disturb you with ideas of your own and our own myopia and self-centeredness with which we all naturally respond to the world. I have appreciated and shown my joy to you when I have seen you develop those insights, those 'aha moments,' that really make for long-lasting memories of what is important in life. Most of all, thank you all."