Future educators interview for teaching positions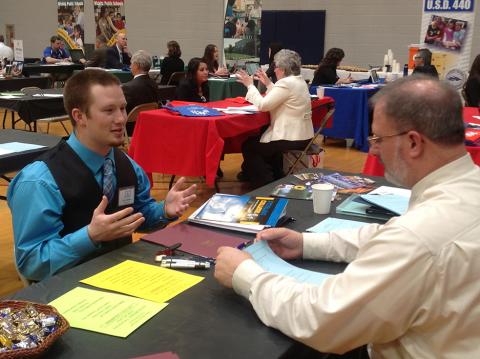 Teacher candidates from Associated Colleges of Central Kansas schools met with potential future employers from across the state at Sterling College on March 7 for the annual ACCK Teacher Interview Day. The event was hosted by Sterling College for the first time in six years and 71 representatives from 45 school districts attended the event to interview teacher candidates. There were 18 Sterling College students who participated in the interviews.
The interview day is organized every spring by the career services directors from the six ACCK schools.  The career fair for education majors allowed students to register for 25-minute interviews to compete for open teaching positions at the Kansas school districts in attendance.
"The opportunity was very unique for the participating students to be able to interview with so many school districts in one day. Most of the districts that attended have open positions, so a number of students are able to get jobs each year as a result of this event. Whether or not students obtain a job from the event, they are able to gain a great deal of interview practice from the experience," said Career Services Director Lisa Parson.
Senior Tillie Ehresman of Sterling, Kan., said, "I really enjoyed the interview day. It was not only good practice to have mini interviews with a lot of area schools, but it also made me aware of several job openings that I didn't previously know existed. Following my interviews, I had several schools ask me to turn in applications and I even had a follow-up interview with one of the districts."
Other Sterling Teacher Education Program candidates that attended the ACCK Teacher Interview Day included Darrin Rasmussen of Wichita, Kan., James Edwards of Hutchinson, Kan., Lynette Bosch of Wichita Kan., Emma Brown of Augusta Kan., Carly Cramton of Pretty Prairie, Kan., Erik Dobbins of Lyons, Kan., Emily Hickman of Hutchinson, Kan., Brittany Honea of Horton, Kan., Miranda Morr of Sterling, Kan., Brittany Outerbridge of Venice, Fla., Amanda Prim of Cunningham, Kan., Bethel Rose of Cherryvale, Kan., William Shannon of Oberlin, Ohio, Alyssa Smith of Sterling, Kan., Larissa Versaw of Canon City, Colo., and Logan Waters of Greensburg, Kan.