Future Teachers Interview with Kansas Administrators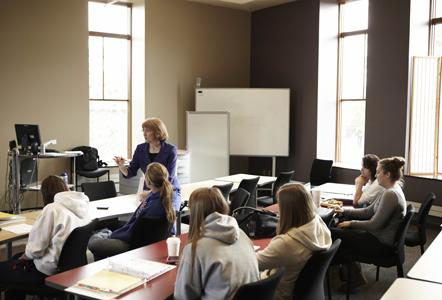 Wednesday, March 21, 2012
Personnel from 34 school districts across Kansas gathered at Bethany College for the annual ACCK Teacher Interview Day, where students participated in 25-minute interviews as they competed for open teaching positions in the school districts represented.
Ten students in their final semester of the Sterling Teacher Education Program at Sterling College participated in the back-to-back interviews on Tuesday, March 13.
Senior Hannah Herrington of Wichita, Kan., said, "I enjoyed the interview day more than I expected. The education department kept telling us it would be great practice, but I didn't understand how 12 interviews in one day could be anything but exhausting. One of the major benefits was being able to think about and articulate my personal approach to education. I'm so glad I got the chance to connect face-to-face and one-on-one with school districts I would love to work for. Interviews can be much more powerful than resumes; some interviewers said that my energy and enthusiasm sold me."
"The Sterling Teacher Education Program did a great job preparing me for this event," said senior April Burns of Frisco, Texas. "We practiced interviews in our seminar in education class to prepare us for our student teaching interviews. I felt confident in my knowledge of education and what I could bring to the table."
Herrington and Burns also said that they were encouraged by most school districts to apply online. Both were encouraged to apply immediately by administrators who wanted to schedule a formal interview at their office.
"Overall, it was an encouraging day," said Burns. "It is reassuring to know that I am prepared to get a job once I graduate."
Other students who attended ACCK Teacher Interview Day include Fay Carey of Sterling, Kan., David Ireland of Norco, Calif., Carolynn Lawrence of Westminster, Colo., Julie Penner of Whitewater, Kan., Lindsay Rollins of Rose Hill, Kan., Victoria Swenson of Yoder, Kan., Terrance Volden of Liberal, Kan., and Abraham White of Mulvane, Kan.