"The Great Divorce" to open April 11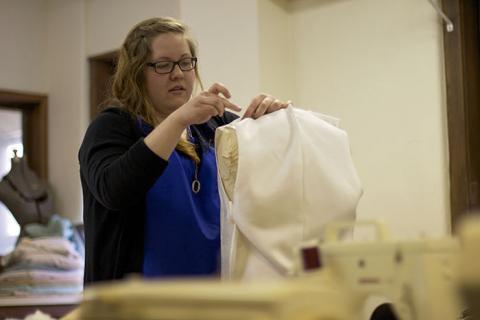 "The Great Divorce," a play adapted from the C.S. Lewis novel, will show April 11–12 at 8 p.m. in Culbertson Auditorium on the campus of Sterling College. The show will feature the final work of two seniors, director Kyle Davis of Hoisington, Kan., and costumes designer Megan Reed of Mulvane, Kan. The box office opens on show nights at 7 p.m. and doors open at 7:30 p.m. Tickets are $8 for adults and $5 for students and seniors.
"The Great Divorce," by C.S. Lewis, is an allegorical story in which the narrator, Lewis, finds himself in the "grey town," which can be hell or purgatory depending on how long one stays. Lewis eventually finds a bus that takes him to heaven. Along the way, he meets up with George MacDonald, who is his mentor. MacDonald becomes Lewis's guide and tells him that he can choose to stay in heaven. Along the ride to heaven, Lewis meets up with other characters who have to overcome their sins in order to reach heaven. Lewis must make the decision to stay in either heaven or hell. "The Great Divorce" was adapted by George Drance and the Magic Theatre Company.
"The show is unique due to the intimacy that the audience will encounter with this production, which allows them to be right next to the action. I believe that this will help the audience travel along with Lewis as he explores the decision that lies before him," said Davis.
"My favorite part about directing 'The Great Divorce' has been the ability to grow along with the actors and designers. Taking an idea and turning it into a message that can be conveyed to the audience is one of the greatest opportunities that I have had the pleasure of being a part of at Sterling," said Davis.
While at Sterling, Davis has served as the lighting designer for the theatre, designing the lighting for "South Pacific," "Medea," "Children of Eden," and "The Glass Menagerie." He has also been involved in other aspects of technical theatre such as carpentry and sound.
The cast of "The Great Divorce" includes Elijah Klein of Valley Center, Kan., as Lewis; Tate Strasner of Mount Hope, Kan., as George MacDonald; Travis Norton of Liberal, Kan., as Big Man/Reginald; Raven Taylor of Wichita, Kan., as Well Dressed Woman/Waspish Woman; Cody Green of Wichita, Kan., as Artist Ghost/Bilker; Cody Martin of Hutchinson, Kan., as Light Spirit; Chelsey Moore of Wichita, Kan., as Female Ghost/Screamer; Jacob Blackwell of Salina, Kan., as Lizard/Intelligent Man; David Spencer of Lyndon, Kan., as Fire Angel/Waterfall; Darsha Bechard of Belleville, Kan., as Bitter Ghost/Tousled Headed Youth; Emily Walker of Sterling, Kan., as Sara/Spirit 1; Chloe Vierra of Lyons, Kan., as Pam/Grumbler; Carlton Ryker of Wichita, Kan., as Cultured Man/Frank; Shiloh Duff of Scott City, Kan., as Bright Youth/Spirit 2; Shane Rogers of Wichita, Kan., as Nervous Man/Whiner; Nathan Ehresman of Wichita, Kan., as Bus Driver; Bridgette Gibbs of Hutchinson, Kan., as Bright Woman/Extra; and Nate Sizemore of Clearwater, Kan., as Tragedian.