Hansen Hired as Football Assistant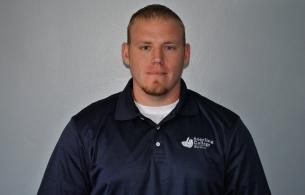 STERLING, Kan. – Head Football Coach Andy Lambert announced today that the Warriors have hired Chase Hansen as an assistant football coach and Co-Offensive Coordinator. Hansen will begin his new duties immediately.
Prior to coming to Sterling, Hansen served as the offensive coordinator for Bethel College in North Newton, Kan. for two seasons. Under Hansen's tutelage in a pro-style and spread offense, ten players earned All-KCAC recognition. While serving as offensive coordinator, Hansen gained experience in scouting, video breakdown, and recruiting.
Before his promotion to Offensive Coordinator, Hansen was the strength and conditioning coordinator at Bethel from the 2008 season through the 2011 season, doubling as the offensive coordinator in 2010 and 2011. While at Bethel, Hansen implemented a periodized strength and conditioning program that emphasized multi-joint exercises and explosiveness.
Hansen comes to Sterling with an extensive background in coaching offensive line play and tight end play, skills that will benefit the 2012 Warrior squad that struggled on the offensive line during 2011. The Warriors will return most of the offensive line that was inexperienced going into 2011.
"Chase is a wonderful addition to our program," said Lambert. "He provides experience as an offensive line coach and will be a big help in coordinating our entire offense. I enjoyed watching him play and respect all that he accomplished at Bethel, both as a player and coach. We are glad to have him"
As a player at Bethel, Hansen was a four time All-KCAC player and two time First Team All-KCAC player as an offensive lineman. Hansen brings the elite playing background coupled with characteristics of a good Christian leader. While playing at Bethel, Hansen was awarded as the Champions of Character Leader in both 2006 and 2007.
Hansen is a graduate of Bethel College where he earned a Bachelor of Arts in Biology. Post-graduation, Hansen attended Wichita State University where he completed a Master of Science in Exercise Science.