Harold and Pat Hood Receive Distinguished Service Award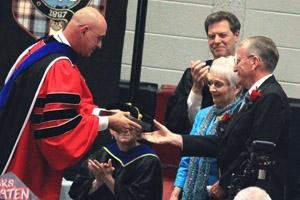 The 2012 recipients of Sterling College's highest alumni award, the Distinguished Service Award, devoted their lives to serving in the field of education. Harold '58 and Pat (Offerle '60) Hood were recognized for their service at Sterling's commencement ceremony held on Saturday, May 12, 2012.
The Distinguished Service Award, established in 1975, honors and recognizes a lifetime of service that exemplifies the purposes for which Sterling College exists – exceptional contribution to society, distinguished professional accomplishment, and outstanding leadership and character. The recipient is chosen by vote of the Alumni Council and Sterling College's Board of Trustees.
Harold began his career at the Christian Training Institute in Sialkot, Pakistan. Upon his return he married Pat, who had just finished her first year of teaching in Hutchinson, Kan. They continued their careers as educators in Ellinwood, Kan., where they raised four children. They also supported missionaries and friends around the world, started junior church programs, taught workshops and church school, and served in church leadership roles.
"After 'retiring,' Harold served for 10 years as the principal for Grace Christian Academy in Great Bend, Kan., while Pat spent her time tutoring children. This couple is a joy to everyone they meet and no one who knows them is surprised about them receiving this award. I am privileged to assist in honoring them with the DSA this year," said Amy Thompson '96, director of alumni and parent relations. The Hoods have recently focused on international service by building a relationship with an international school in Brazil.
In response to Sterling College's contribution to their preparation for a lifetime of service they said, "We realize as we look back over our lives that our four years at Sterling College were some of our best. Dr. McGill's guidance and encouragement prepared us for a lifetime of teaching in Kansas and other places around the world. Sterling College provided a spiritual foundation for our future years. It was while we were at Sterling we grew in our relationship with the Lord and were allowed the opportunity not only for individual growth but to share our faith through campus ministries."