Haspelses receive Distinguished Service Award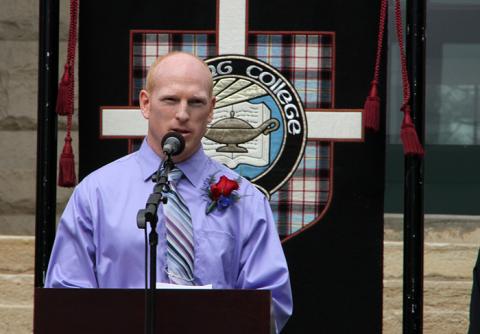 John M. '69 and Gwenyth "Gwen" (Adair) '70 Haspels were the recipients of the 2013 Distinguished Service Award, given to Sterling College alumni for a lifetime of service in Southwest Ethiopia. The Haspelses are still serving in Ethiopia, so their son, Chuck Haspels '97, received the award in their honor.
The Distinguished Service Award, established in 1975, is the highest alumni award given by Sterling College. It honors and recognizes a lifetime of service that exemplifies exceptional contribution to society, distinguished professional accomplishment, and outstanding leadership and character. The recipient is nominated by fellow alumni and voted on by the Alumni Council and Sterling College Board of Trustees.
John and Gwen both traveled a long distance to come to Sterling College. John and Gwen spent time in Ethiopia and Sudan growing up. They both attended high school in Egypt and attended Sterling College. John continued his education at Fuller Theological Seminary where he earned his Master of Divinity and then pastored a church in Jetmore, Kan. Gwen attended Wesley School of Nursing where she became a registered nurse.
John and Gwen have spent the last 40 years doing church planting and evangelism in Sudan and Ethiopia. Their current work is in the context of a development project that includes a clinic, water projects, road building, health teaching and outreach, and education.
Sterling College President Scott Rich said, "John and Gwen are known throughout the mission community as thoughtful, caring people who can be called upon whenever needed. They are loving parents to their own children and grandchildren and all those they encounter. Energized to serve God, the Haspelses are beacons of the hope of Jesus."
"Sterling College is proud of John and Gwen for their lifetime together of service to God, family, community, church and their Alma Mater, Sterling College. And we look forward to having them on campus this fall when they are back in the U.S. on furlough."
John and Gwen both come from long lines of Sterling College alumni and all four of their children attended SC.