Henry, Dutton '82 and Ver Steeg Honored for Years of Service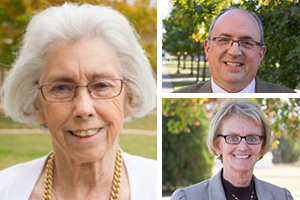 Helen Henry, Mary Ver Steeg and Dennis Dutton were honored at the Kickoff Banquet on Aug. 4 for their years of service to Sterling College.
Helen Henry, assistant to the business office, began serving Sterling College under former president Dr. William M. McCreery in 1945. Through different roles on campus, Henry has served the employees and students of the College for over 45 years.
"Helen is a wonderful servant leader on campus and takes her job very seriously and personally. She loves the students and loves being on campus. She is well known on campus and her commitment to Sterling College is evident in what she does. We appreciate her continued service to SC and hope that she stays for many more years," said Scott A. Rich, president.
Henry's son, Randy Henry '72, currently serves as chairman for the Sterling College Board of Trustees. Her grandchildren have also attended SC – Justin '97, Brandon fs00 and Amy Ansley fs04.
Dutton, director of admissions, has served the SC admissions office for 30 years. He started as an admissions counselor and has held the titles of director of admissions, director of development and annual giving, and vice president for enrollment.
"Dennis is an asset to the admissions office and Sterling College. He is an SC alumnus and has a fantastic memory of current students and alumni. His cheerful demeanor and desire to connect with students and employees on campus is wonderful. He mirrors a Christ-like attitude toward students and parents as they walk onto Sterling's campus for the first time," said Tina Wohler, vice president for student life.
Dutton graduated from Sterling College with a B.A. in Communications and Theatre and went on to pursue his M.A. in Arts Administration at Goucher University. He is married to Betsy '82, the Sterling High School theatre and debate teacher. They have two boys.
Ver Steeg, an associate professor of exercise science, is the longest serving faculty member with 25 years of service. She teaches in the exercise science and health and physical education programs and has a long coaching history for the Warriors. Ver Steeg won the McCreery Teaching Award in 2001.
"Mary has played an integral role in the educational and spiritual development of students in the exercise science program over the last 25 years and strives for excellence from herself and those around her," said Erin Laudermilk, co-chair for the Department of Exercise Science.
Her title of "Coach Mary" comes from her role in SC volleyball, basketball and softball. She was the volleyball coach from 1989-2005 and was awarded 10 American Volleyball Coaches Association Team Academic Awards. She led her team to two Kansas Collegiate Athletic Conference championship victories in 1994 and 1997, and she was twice awarded KCAC Coach of the Year.
"Mary is an inspiration to students, both in the classroom and in athletics. Her dedication to the SC campus and to sharing her faith with her students is displayed for those around to see. Her teaching encourages educational excellence and students who take her class state that they were encouraged to become a teacher or professor like Coach Mary," said Dr. Gregory P. Kerr, vice president for academic affairs.