Herrington and White Earn Teacher of Promise Award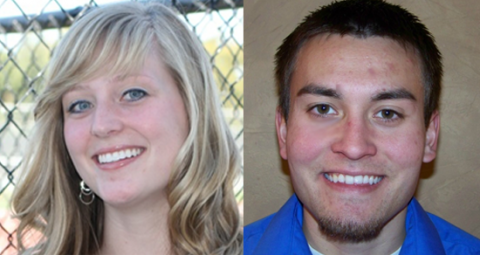 Thursday, February 2, 2012
Senior Hannah Herrington of Wichita, Kan. and Senior Abraham White of Mulvane, Kan. won the "Teacher of Promise" award given by the Kansas State Department of Education.
Herrington and White, both enrolled in the education program at Sterling College, received their award at the Kansas Teacher of the Year banquet on November 19 in Wichita, Kan. Students are selected by their college or university on the basis of character, dedication, and achievement.
Sterling College chooses their candidates based on both academic performance and professional dispositions. The dispositions include the five attributes of: integrity, dependability, effective communication, appropriate attitude, and leadership.
"The Sterling College Department of Education felt like Hannah and Abraham exceeded each of the standards set by the state and the College," said Terri Gaeddert, chair of the education department. "Hannah and Abraham have demonstrated the characteristics that Sterling College expects from our candidates. Their commitment to their students, colleagues and the education profession made them obvious choices for the award."
Each fall semester, two students who are one semester away from entering their clinical teaching experience are selected by the Sterling Teacher Education Program to attend The Teacher of the Year Event in Wichita hosted by the Kansas State Department of Education. The day is full of interactive seminars that provide future teachers with curriculum ideas, management tools, and various other aspects of successful teaching.
Herrington said of the experience, "The Teacher of the Year team had us up and moving, collaborating with other great future teachers, thinking, laughing, and frantically writing down ideas for our own classrooms. I'm so grateful I had the chance to gain practical classroom ideas from professionals who made us feel like we would easily be as influential as we know they are."
After a full day of learning, the Teachers of Promise attend a banquet to see the Teacher of the Year or Horizon Teacher of the Year announced. The banquet provides students with an opportunity to boost their resume, receive choice clinical teaching placements, and meet potential employers.
White said he was excited to be a chosen for the event. "The banquet was a great way to connect with other aspiring teachers who share the same passion I have for education. I also appreciated the opportunity to learn instructional strategies from some of the best educators in Kansas."