Hershberger, Comley named 2022 Outstanding Graduates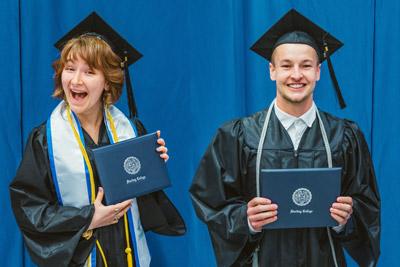 With years of hard work and service behind them, Sterling College seniors Ardynn Hershberger of Lyons, Kan., and Kenan Comley of Sterling, Kan., were named the 2022 Outstanding Female and Male Graduates in conjunction with the Fran Jabara Leadership Award. 
The awards are given to two students who exemplify outstanding academic achievement, leadership skills and involvement, and who portray an enthusiastically Christian faith. They must have a cumulative GPA of 3.4 or higher and are voted upon by faculty and staff.
Hershberger earned her Bachelor of Arts in Theatre Arts: Secondary Education, graduating with honors of summa cum laude and was a Kelsey Scholar. During her time at Sterling College, she was actively engaged in the campus community, participating in many theatre productions. 
"When you think of Ardynn, you not only think of how much joy, kindness, and love she exudes. You think of Jesus. You think of the incredible love and desire He has to commune with us, His people," said Estephany Moncada '19, associate chaplain and intercultural officer. "She has a way of allowing people to bring all of who they are to the table and is truly a stranger to none. This woman, now she's a real one. I have had the absolute privilege of seeing her in diverse settings – from going to college together, to hiring her to help with tutoring in Student Success, to her becoming a sweet and unexpected, close friend that I know will remain for a lifetime. Time and time again, I have seen her run to Christ for wisdom and strength and that has not only encouraged and served as an example to the peers around her, but it has also shaped me tremendously."   
Comley completed his Bachelor of Science in Elementary Education, with honors of magna cum laude and was a Kelsey Scholar. He played on the men's basketball team and served as team chaplain during his senior year for the men's basketball team. 
"I was his high school principal and was blessed to have him in class my first year at Sterling College. The most endearing qualities about him are his love for the Lord and how intentional he is with people," Dr. William Anderson, assistant professor of education. "He listens, smiles and you always come away a better person after spending time with him. He intrinsically demonstrates the mission of Sterling College…servant leadership."
The Professor Fran Jabara Leadership Award was established in 2002 by Professor Fran Jabara, former Dean of the Wichita State University College of Business Administration, and recognizes graduating seniors from four-year, private Kansas colleges who display exemplary leadership skills.
Sterling College is a Christ-centered, four-year college located in Sterling, Kansas, with a mission to develop creative and thoughtful leaders who understand a maturing Christian faith. For more information, visit www.sterling.edu.