High school students attend art workshops at SC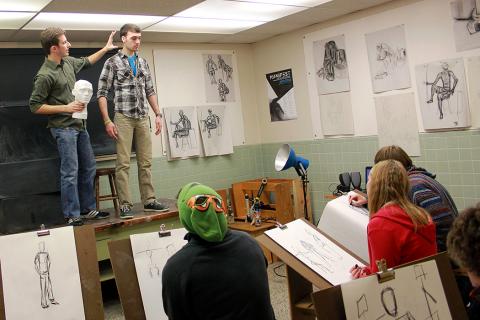 Wednesday, February 20, 2013
Over 40 students and teachers from Kansas high schools came to Sterling College to participate in art workshops on Friday, Feb. 15. The students attended three workshops of their choice covering concept art, photo transfer, costumed figure drawing and pointillism painting. Workshops were led by Assistant Professors of Art Hanna Kozlowski-Slone and Daniel Swartz and Sterling College students.
"This was a great opportunity to showcase our department to a wide variety of students, specifically those who are interested in pursuing careers in art following graduation from high school," said Kozlowski-Slone. "We believe that artistic growth is amplified when approached from a Christ-centered perspective, so we hope that the students were able to sense that during their hands-on experience in the workshops."
Several Sterling College students had a chance to experience role reversal by becoming teachers through leading workshops. Junior Lucas Knauss of Abilene, Kan., taught a workshop in costumed figure drawing to the visiting students.
"I was able to teach costumed figure drawing from a live model and then the students had time to practice their technique," said Knauss. "It was neat to see how quickly they picked up the concepts and I loved the chance to experience the classroom from the teacher's perspective."
Participating schools included Ness City High School, Prairie View High School and Haven High School.