High school students explore art on campus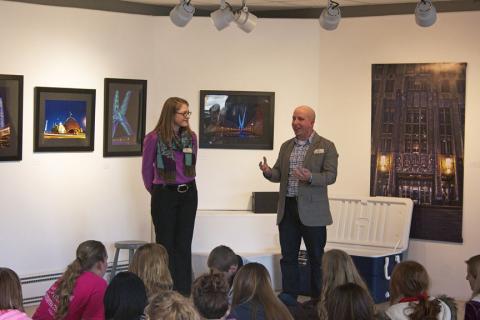 Wednesday, December 5, 2012
Over 100 students and teachers from Kansas high schools came to Sterling College to participate in art workshops on Friday, Nov. 30.
The students attended three workshops of their choice covering mural painting, concept art, photography, charcoal mark making and costumed figure drawing. Workshops were led by Assistant Professors of Art Hanna Kozlowski-Slone and Daniel Swartz, Lecturer in Art Shawn Cordel and Sterling College students.
"We've had very positive remarks from all of the students," said Dennis Dutton, director of admissions. "Several students said they enjoyed the workshops and learned about new things. The teachers from the area high schools appreciated the hands-on experience that their students were able to take part in. We are very pleased with the responses of both the teachers and the students."
While students were at the event, they also were given a tour of campus by the admissions office and ate lunch in the newly renovated Student Union. Dutton said the event was a good way to introduce students to Sterling College. They plan on hosting a similar art workshop day in the spring.