Hodge awarded grant from Kansas Academy of Science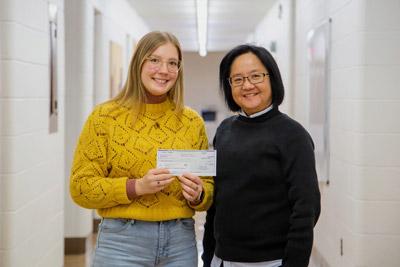 Wednesday, January 18, 2023
The Kansas Academy of Science awarded Sterling College junior Sophia Hodge of Topeka, one of three undergraduate grants in the state of Kansas for the 2022-23 school year. Hodge's project is "Assessment of Bacillus mojavensis BM1 found in Kansas as a Candidate for Bio-fertilizer and Microbial Pesticide."
"Sophia Hodge's previous research on a separate bacterium, Bacillus vallismortis, identified the released melanin-like pigment that responses to environmental changes. It has also been found to have broad spectrum anti-microbial properties. She presented these findings in an oral presentation at the 154th Annual meeting of the Kansas Academy of Science this past spring," said Dr. Wai-Foong Hong, professor of biology. 
The new, grant-funded project is to assess the Bacillus mojavensis strain BM1 found in Kansas as a candidate for Bio-fertilizer and microbial pesticide well-suited for the Midwest. 
"We hope this may provide a safer and sustainable alternative to current pesticides that would greatly benefit our agricultural future," said Hong. 
Hodge will present her research in April at the Kansas Academy of Science Annual Meeting as a requirement of the grant. 
Sterling College is a Christ-centered, four-year college located in Sterling, Kansas, with a mission to develop creative and thoughtful leaders who understand a maturing Christian faith. For more information, visit www.sterling.edu.