Homecoming Court Announced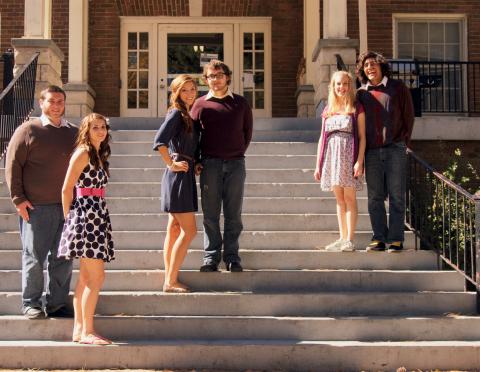 The names of the 2012 Homecoming court have been released. The Homecoming coronation ceremonies will take place on Saturday, Oct. 20 at 1:10 p.m. before kickoff for the football game against Ottawa University.
Candidates are selected by fellow classmates. They must have at least a 2.5 GPA, be in good standing with College and must be a senior or a junior who plans to graduate in the spring.
Annalise Kolb of Monument, Colo., is a psychology major at Sterling College. She participates in student senate, the Campus Activities Board and the Behavioral Science Club. She traveled to Thailand on a summer mission trip and is a member of the Southwestern Psychological Association. Kolb is the daughter of Garry and Valerie Kolb.
Cassandra Spleiss of Camp Verde, Ariz., is majoring in exercise science with a licensure in education. This season will mark her fourth as a basketball player for the Lady Warriors, where she participates in the team Bible study. She served for two years as a resident assistant in Douglas Women's. Spleiss also traveled to Nicaragua on a mission trip with Sterling College. She is the daughter of Scott and Kelli Spleiss.
Larissa Versaw of Canon City, Colo., participates in Highland Singers, praise band and percussion ensembles. She also participates in intramural volleyball and will be performing in the upcoming play, "The Odd Couple." Versaw also served as a resident assistant in Evans Hall. She is majoring in music with an education licensure. Versaw is the daughter of Grant and Anette Versaw.
Scott McKinney of Superior, Neb., participated in theatre, forensics and the Campbell Hall Organization. He is actively involved in intramural volleyball and basketball and served as a resident assistant for two years in Campbell Hall. McKinney is a majoring in communications with a minor in marketing. He is the son of Emma McKinney.
Micah Mitchell of Westminster, Colo., has played soccer for the Warriors for three years. He has traveled with Sterling College to Tanzania on a mission trip and is currently a resident assistant in Campbell Hall. Mitchell is an English major with a minor in ministry. He is the son of Alberto and Esmelda Mitchell.
Michael Redondo of Norco, Calif., is studying communications with an emphasis in theatre arts and a minor in Christian ministries. He participated in the Catholic Students Association, Campbell Hall senate and SC Chorale. He also went on a mission trip to Thailand and was a Homecoming attendant his sophomore year. This year he is in Highland Singers, is stage manager for the Homecoming musical "Godspell," and is the Student Government Association president. Redondo is the son of Robert and Mary Redondo.