Hong receives 2022 McCreery Teaching Award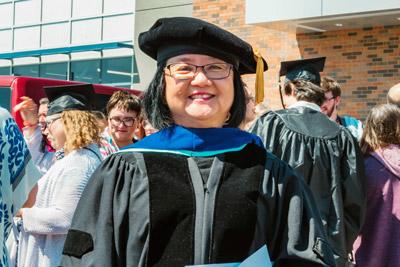 Dr. Wai-Foong Hong, professor of biology at Sterling College, was given The William M. McCreery Teaching Award as part of the College's Commencement ceremonies on Saturday, May 7, 2022. The award recognizes and encourages excellence in teaching and is presented to a faculty member whose efforts have provided noteworthy and innovative instruction to Sterling College students during the academic year. The award was established in honor of Sterling College's fourth president, William M. McCreery, and has been awarded to one outstanding faculty member each year since 1977.
Hong has taught at Sterling College for sixteen years and is a leader on campus in the sciences. 
Hong is described by faculty saying, as taking a "very active role in getting to know her students, clearly leaving an impression within our department through her commitment to faith, paired with an uplifting spirit."  Her department chair notes "Over the past year, I have been particularly impressed by her teaching strategies and implementation of creative and innovative content into her courses through effective teaching abilities, collegiality, commitment to student success, and the effective integration of a strong Christian faith into her courses."  
Her colleagues further note multiple instances of her focus on "facilitating student learning through their mastery of modern research techniques during laboratory sections of her courses while implementing new modules related to research; as well as how she cares for her students through "deep conversations with her students due to her approachability, collaborative prayer, and educating the whole student – as Jesus would."
Hong was described by one student who simply recognized that she "always walks into class with a positive attitude, going out of her way to make me smile or laugh, and develops her classes and labs in a manner that is not only interesting but innovative and engaging.  I'm honored and privileged to be her student."
Sterling College is a Christ-centered, four-year college located in Sterling, Kansas, with a mission to develop creative and thoughtful leaders who understand a maturing Christian faith. For more information, visit www.sterling.edu.