Honors Convocation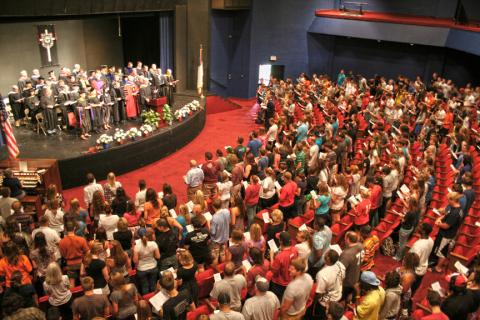 The 35th Annual Sterling College Honors Convocation will be hosted Friday, April 27 at 11 a.m. in Culbertson Auditorium on the Sterling College campus. Inaugurated in 1977, the Honors Convocation is a chance to recognize Sterling College students with awards and scholarships.
This year, 105 total scholarships or awards will be given to students who have achieved academic excellence. The criteria necessary for each individual scholarship is established by the donor when the scholarship was set up with the College. While most awards or scholarships are from an endowment, there are a handful of awards or scholarships given by donors yearly to be presented at the convocation.
"We make an effort to recognize the students who are succeeding in the classroom," said Dr. Gregory Kerr, vice president of academic affairs. "Our faculty set high academic standards, and it is important that we take time to recognize and award those who have accomplished the task set before them."
Sterling College is a Christ-centered, four-year college located in Sterling, Kan., with a mission to develop creative and thoughtful leaders who understand a maturing Christian faith. For more information, visit www.sterling.edu.