Hood, Evans selected for fall Teachers of Promise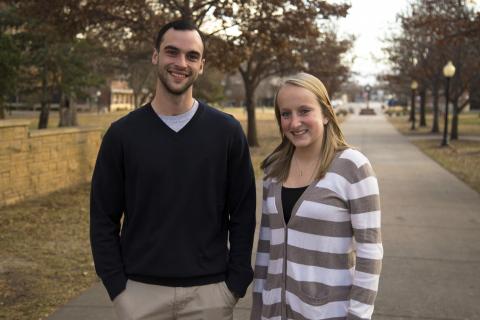 Tuesday, December 5, 2017
Amanda Hood from White Oak, Texas, and Scott Evans of Weatherford, Texas, have received the honor of being named Sterling College's Teachers of Promise for the fall semester. Amanda and Scott were recognized at the Kansas Teacher of the Year Awards Banquet on Nov. 18 in Wichita.
Each semester, two students who will be clinical teaching the following semester are selected according to criteria that relate to the key elements of the Sterling Teacher Education Program and include IDEAL attribute ratings for integrity, dependability, effective communication, appropriate attitude and leadership, along with content, professional and cumulative GPAs.
"Amanda is a phenomenal student in our education program at Sterling College," said Dawn Eliserio, pro-rata assistant professor of education. "She is an eager, enthusiastic student who takes that enthusiasm into the classroom to engage each learner. Amanda has proven in all of her classes to have a strong work ethic, a determination to succeed, and a true passion to teach the next generation from a Christian perspective. It has been a joy to have her in the program. As our STEP-UP president, she has gone above and beyond the job responsibilities. We are all excited to see Amanda continue to grow and develop as she begins her career."
Hood is currently finishing her elementary education major and a missions minor with plans to graduate this May. In addition to her studies, she spends time on the STEP-UP Education Committee and as the Donut Club Treasurer.
Before the event, Hood said, "I am very honored to receive this award. It is going to be such a neat experience to participate in the workshops and banquet. There is so much to learn in the education world. I cannot wait to someday have my own classroom and begin teaching my own students."
Evans is a math education major.
"Scott's natural interactions with students and the rapport he builds while inspiring them to learn mathematics is incredible," said Stephanie Simpson, assistant professor of education. "He has that 'special' quality that great teachers possess, making him worthy of the honor of a Sterling College Teacher of Promise. It has been a pleasure watching him in action in the classroom, and I believe that he will continue to be an amazing servant leader while instilling mathematical knowledge to middle and high school students."
Evans said,  "I was very surprised when I found out that I was selected as one of Sterling College's Teacher of Promise. The STEP program here does an amazing job of creating and producing fantastic teachers. The education major is often looked at as an easy one when really it's anything but that. The field of education requires so much more work than people realize. Students in this major spend countless hours working on lesson plans, observing classrooms, teaching, writing unit plans, etc. So, to be selected out of a pool of several other hardworking students is an absolute honor, and I'm so thankful for this opportunity to represent Sterling College at the KTOY Awards Banquet."
On Nov. 18, Hood and Evans attended a banquet and workshop in Wichita, Kansas. The workshop consisted of the 2017 Kansas Teacher of the Year team leading the fall Teachers of Promise award recipients in a series of activities pertaining to their chosen path. The banquet recognized Hood, Evans and Teachers of Promise recipients from other colleges and universities.