Jim Turner elected to Board of Trustees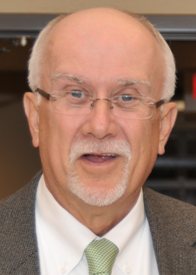 Tuesday, February 19, 2013
Sterling College has elected Jim Turner '62 of Topeka, Kan., as a member of its Board of Trustees during the winter board meeting held on Feb. 7-8.
"We are excited that Jim joined the Board of Trustees," said Heather McCreery, chairwoman of the Board of Trustees. "He has shown leadership and passion for Sterling as part of the National Advisory Council and we believe that he will be a great addition to the Board."
Turner is the president of the Heartland Community Bankers Association, a position he has served in for 41 years. Turner is involved with Topeka Young Life, The Bridge and Topeka Fellowship Bible Church. Turner was also a part of the Sterling College strategic planning process during the last academic year.
An active participant in community and professional organizations, Turner has been the president of the Topeka Active 20-30 Club, the Kansas Society of Association Executives and a consultant to the Office of Thrift Supervision. From 1994-2008, he served as the chairman of the Sam Brownback congressional campaigns.
Turner received his bachelor's degree from Sterling College and his master's degree from Kansas State University under a Ford Foundation Fellowship in 1963. He also served for six years as the administrative assistant to the former U.S. Congressman Chester Mize, and spent a brief period as a teacher-coach for the Topeka Public Schools.
Turner and his wife, Elza, have two children and six grandchildren.